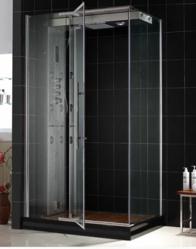 DreamLine Majestic steam shower enclosure is a culmination of years of advanced design, unique materials, and superior craftsmanship
Aiken, SC (PRWEB) December 09, 2012
DreamLine Majestic steam shower enclosure is a culmination of years of advanced design, unique materials, and superior craftsmanship. The unit is designed to be installed against tiled walls in a left or right corner. The surrounding glass and door are made out of 5/16" thick, clear tempered glass. The side glass panel is 34 3/8" wide, the front panel (including the door) is 46 5/8" wide, and the hinged door is 24 3/8" wide. The overall exterior height of the cabin is 87 3/8". The Majestic cabin comes with a black acrylic base that is 36 5/8" x 48 1/2" and 4 3/4" high. The controls, water and steam outlets are mounted on a brushed nickel column.
Majestic SHJC-4036488L-01 (left corner inst.) and SHJC-4036488R (right corner inst.) make the showering experience one of a kind with its 6 adjustable body jets, 12 x 12 rain shower head, hand-held shower head, and steam generator. The unit has also two halogen lights mounted in the roof, FM radio, and MP3 player hookup.
The water outlets are controlled by a thermostatic valve that is integrated with three independent diverter valves. The integrated valve has four knob handles. The top three handles turn water on/off individually to a particular outlet (i.e. body jets or shower head, thus all outlets can run at the same time) while the bottom handle controls the water temperature.
The steam generator, halogen lights, FM radio and MP3 player are controlled with a touch pad equipped with an LCD screen.
DreamLine Majestic shower cabins are now available at Warehouse USA – http://warehouse-usa.com. They are on sale with free shipping throughout 48 contiguous states. For more technical information or if in doubt please do not hesitate to call 888-693-8066.