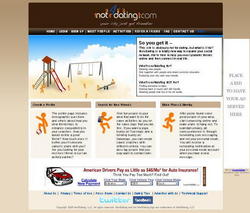 I like how Not4Dating.com merges the 'strictly platonic' section of Craigslist with the user profile and search capabilities typically found on dating websites such as Match.com
New York, NY (Vocus) January 13, 2010
This month more than 100 million Americans will make New Year's Resolutions, but four out of five people will quit them in just a few weeks. The free social networking website that focuses on connecting new platonic friends locally, Not4Dating.com, has a solution for resolution burnout. People can create a profile page including their photo, age, geographic location, activity preferences, and include details regarding what makes a good friend or activity partner. Once a profile is completed, users can search for new friends locally who enjoy similar activities. After looking for friends, site users can initiate communication with their selected new friends - all while maintaining their privacy by communicating through Not4Dating.com's private messaging system.
"I like how Not4Dating.com merges the 'strictly platonic' section of Craigslist with the user profile and search capabilities typically found on dating websites such as Match.com," said Lana, a resident of San Francisco and new Not4Dating.com user. "Not4Dating.com merges the best elements from other social networking websites creating an easy-to-use website specifically designed for making new friends that are platonic and share my own interests – which will be helpful as I try to keep my New Year's Resolution of walking outdoors at least three days a week. I know I'll stay with it longer if I have a new friend joining me."
Not4Dating.com lets people make friends locally by zip code, by distance ranging from 10 to 100 miles, specify gender, age range, days and nights of the week available, and choose from a variety of fun activities, including outdoor activities, shopping, dining out, sightseeing, yoga, dancing, happy hour, concerts, theater, traveling, cooking, shopping and more. The website has no membership costs or hidden fees.
Visit http://www.not4dating.com for more information.
Media Contact:
RPR Public Relations, Inc.
Tel. 786-290-6413
###