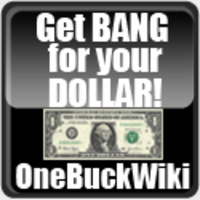 We foresee a massive growth in Wiki communities as seen with new Wiki sites such as Malaho, a human-powered search engine driven by blog pioneers like Jason Calacanis
San Francisco, CA (PRWEB) November 11, 2007
Zedomax Network, a Web2.0 company based out of San Francisco, has launched the One Buck Wiki on October 12th, 2007. The One Buck Wiki seems to have exploded itself onto the internet market, with some users buying up a whole category of words such as continents. One such User X has bought Africa, America, Canada, Asia, Europe, and all the other continents including several individual countries.
There are still plenty keywords available just as there's infinite number of English words in the dictionary. Although the company states that the One Buck Wiki is in its beta stage, they feel confident that they have just started to climb their peak, meaning they will exponentially grow.
A lot of users are also buying up keywords such as "2010 Olympics", taking a long term view on their investment. One page on the One Buck Wiki currently costs $10. For every 1000 pages sold on the One Buck Wiki, price jumps by another $10. That means a $10 page bought today will be worth $20 when they have sold 2000 pages.
With over 1400 pages sold in the last month, the company forecasts they will sell out over 4000 pages by the end of the year.
The Internet Wiki buzz was originally started with the Million Dollar Wiki, which was an experiment to pay for school tuition by Graham Langdon, a former student in college. Graham has dropped out of school to pursue his new entrepreneurship at Web 2.0. People are now slowly realizing Wikis are becoming the untamed blue ocean of technology to filter out spam and create new communities where only great content can exist.
With tremendous community support behind the One Buck Wiki, the founders of One Buck Wiki think they can really go "buck wild" with this concept. Thanks to Graham Langdon's lack of college funds, the internet world will start to experience Web 2.0 all over again, not with blogs but with the new Wiki sites.
Although blogs have proliferated with free services like Google's Blogspot and free blog softwares like Wordpress, Wikis have been only appealing to experienced users familiar with the wiki syntax.
"We foresee a massive growth in Wiki communities as seen with new Wiki sites such as Malaho, a human-powered search engine driven by blog pioneers like Jason Calacanis," says One Buck Wiki founder, Max Lee.
The difference between Wikis and a blogs are very subtle. Wikis allow thousands of users to edit a page simultaneously, while a blog simply serves a few authors. While blogs have been growing exponentially over the last couple years, Wiki sites such as One Buck Wiki, might become the next contender among the buzz makers.
OneBuckWiki.com: http://OneBuckWiki.com
###