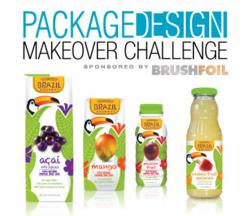 "The concepts of fun, delicious, and healthy are all present in the new design," says Linda Casey, Editor, Package Design magazine
Cincinnati, OH (PRWEB) December 12, 2011
Package Design magazine's eighth annual 2011 Makeover Challenge, sponsored by Brushfoil, has named Murray Brand Communications from San Francisco, as the winner, for its redesign of the packaging for Brazil Gourmet's line of fruit juices.
The Makeover Challenge tasked four design agencies with creating a new package look for Brazil Gourmet beverages. The agencies had less than two months to develop and present their best designs before Package Design readers were invited to voice their opinions. There were nearly a thousand votes cast online at PackageDesignMag.com and, for the first time, on-site at Pack Expo Las Vegas.
Murray Brand Communications explained that it wanted to create a design that leveraged Brazil Gourmet's Brazilian heritage while staying consistent with the brand's reputation – fun, delicious, and healthy.
"The concepts of fun, delicious, and healthy are all present in the new design," says Linda Casey, Editor, Package Design magazine. "Because of the whimsical illustrations, photography, and white background there seems to be an unconscious story told of the juice's purity."
In order to communicate that the juice is 100% fruit, the designers at Murray Brand used the fruit image as the heart of its design. To stay consistent with the authentic and tropical feel, flora surrounded both sides with the reimagining of Brazil Gourmet's toucan icon to help establish brand equity. Overall, a sense of the exotic was an important part of the brand strategy Murray Brand Communications wanted to achieve for Brazil Gourmet.
"I voted for Murray Brand Communications' submission because it really conveyed what the product was all about," says Heinz packaging engineer Greg Roskos. "It was quick, it was efficient, and it made sense. The tropical look on the shrink wrap label conveys freshness and somewhere exotic, which is what you want to do for a tropical fruit juice company."
About Package Design
Published 10 times a year, Package Design provides in-depth insight into the vibrant and evolving package design field. Package Design's editorial content consists of departments and features highlighting the products, techniques, and insights needed for package designers to succeed in delivering increased sales for their clients. For more, visit packagedesignmag.com.
About ST Media Group International
ST Media Group International Inc.'s products enjoy a worldwide reputation of quality and timely editorial. Located in Cincinnati, ST Media Group is a 105-year-old multimedia company that specializes in the business-to-business markets of visual communications consisting of signage, retail design, screen printing, digital imaging, package design and boutique/hospitality design. Visit stmediagroup.com for details.
###