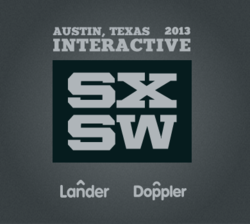 "It is a honour to represent Argentina in the SXSW event. This 2013 we will be presenting our most important digital marketing products Doppler, an Email Marketing tool and Lander that allows the creation of landing pages in minutes."
San Antonio, Texas. (PRWEB) March 06, 2013
Cesar DOnofrio, CEO of Making Sense announced today that the company will be representing Argentina at the South by Southwest (SXSW) festival that will take place from March 8th to March 17th of 2013 in Austin, Texas.
In recent years the Argentine technology sector has grown considerably positioning the country as a leading one in this service offerings as well as innovation coming out from Latin America.
Making Sense is one of the leading IT companies in the Argentine tech sector currently outsourcing to the U.S. The company is strongly committed to raise market awareness of the Argentine software sector as an outsourcing destination, and to introduce Argentine software firms to potential customers in the U.S.
It is also a member of the Chamber of Software and IT Services Companies of Argentina (CESSI), a nonprofit organization that bring together IT companies dedicated to the production, development, commercialization and implementation of software in Argentina.
Together with other IT companies from Argentina Making Sense was selected to participate in the event by the "Subsecretary of Investment Development and Commercial Promotion" and the "Exportar Foundation" (both part of the Ministry of Foreign Affairs and Cults), together with the MICA (National Direction of Cultural Industries).
The SXSW festival that has been taking place since 1987 in Austin, Texas promotes three big sectors: Music; Interactive (new technologies) and Cinema.
"It is a honour to represent Argentina in the SXSW event. The SXSW is an international event where companies have the opportunity make business alliances" said Cesar DOnofrio. Although we have participated in this great event in previous years, this 2013 we will be presenting our most important digital marketing products Doppler an Email Marketing tool that allows you to create, send, analyze & optimize your Email Marketing campaigns in a very simple, fast and effective way, and Lander that allows the creation of landing pages in minutes."
About Making Sense
Making Sense is an IT company specialized in the development and implementation of software and web applications for different companies. It has over 120 employees who work in different offices located in United States, Argentina and Mexico. The company is determined to offer the latest tendencies in the market and has several partners around the world. Making Sense's most important products include Doppler, the most used Email marketing tool in Latin America, and Lander that allows the creation of landing pages in minutes, optimize them and improve conversions.
Since it was founded in 2006, Making Sense has dedicated its efforts to offering excellent software strategic services, as means of creating long and lasting relationships between companies and their clients.
Also, on December 2012 Making Sense received a special mention at the Polo IT Buenos Aires end of the year event. Polo IT is a nonprofit Civil Association and concentrates over 160 computer engineering products and services in the city of Buenos Aires and the metropolitan area. The diploma was given to to our company in recognition for its hard work fostering Argentina IT outsourcing to the U.S.
Making Sense is constantly renewing its essence, offering high quality services and maintaining its unique spirit of passion and dedication.
About South by Southwest (SXSW) Festival
The festival will begin on March 8th with the "film festival" that will extend until March 16th together with the conferences and seminaries of the "interactive" sector that will end on March 12.
From March 10th to March 17th the trade show will take place and Argentina will have its own institutional stand of 36 m2 to be used to exhibit its products and plan future business meetings by the participating companies.
The trade show consists in a business fair of SXSW and during four days, different professionals from the three sectors (Music, Interactive and Cinema) will meet. It is important to mention that in 2012 over 60.000 representatives of 72 countries around the globe attended the event.
Leading professionals of the music industry, cinema and interactive industries will act as a melting pot in a same space, providing new business opportunities: producers, distributors, discographic stamps, studies, and universities, marketing agencies, festivals, associations, hardware and software producers, services companies, means of communication, among many others.
The pavilion will count with the coordination and assistance of the Argentine government officials, the embassy of Argentina in Houston, and the National Secretary of Culture, including specialized personnel from the Exportar Foundation.