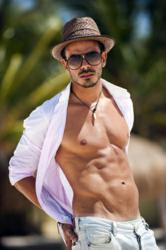 (PRWEB) March 15, 2013
Male Escort Online, the leading provider of news and information in the Male Escort industry has proudly welcomed a new advertiser that specializes in Straight Male Escort matchmaking services for wealthy women. Straight Male Escorts are the next big thing & there is no doubt that the fastest growing part of the escort business is the straight male escort side therefore this makes complete sense for the new advertiser to gain more visibility by advertising their services on MaleEscortOnline.com.
The advertiser is an agency called 5 Star Companionship.com and truly looks forward to building more awareness about their services. As mentioned previously they are a matchmaking service attempting to find you not just an escort but one that has the hair, eye color and body type that you are looking for in addition to many different attributes the women may desire.
When you visit their website it will ask you to choose everything you want in a male escort / companion and submit your inquiry. Typically the women will get a call or an email (which ever you prefer) within the same day. This straight male escort agency will not even attempt to provide a match for you unless it truly fits your criteria. More and more women seem to want company these days for many different reasons and now it's comforting to know that Male Escort Online.com can direct it's website users to a reputable company that is discrete and high class for women in need of companionship.
Male Escort Online is an online informational source covering all aspects of male escorting.