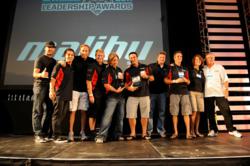 The trade show kicked off with a bang on Thursday morning
Orlando, FL (PRWEB) October 14, 2011
Surf Expo is undoubtedly the industry's biggest weekend of the year. In 2011, Malibu Boats dug deep with intentions to make a big impact. With the launch of two new models, the Wakesetter 22 MXZ and Response TXi, all eyes were on the boats and the team was psyched to show them off.
The trade show kicked off with a bang on Thursday morning, with our booth featuring a sparkling metallic, dark blue/white MXZ and a metallic Charcoal/Reuben Axis A22. Besides talk of the perfect wakes, plush amenities and the spacious bow on the MXZ, anticipation was creeping for the 8th Annual Wake Awards that evening. Malibu went big, securing an 80-person VIP list and coming on board as a title sponsor.
Excitement set in early, during the WSIA Industry awards, where Malibu won "Best Ad Campaign." Ad creative and photography was a big focus this year, and it was an honor to take home this coveted award. Special thanks to Larry Meddock of the WSIA and our incredible photographer, Tom King. Also, congrats to Chessie Marine for their hard work resulting in the "Break Out Dealer Of The Year" award as well as Tommy's Slalom shop for winning top honors as "Retailer Of The Year." "Best Promotion" went to Active Watersports, which made a clean sweep for all three retailer awards going to Malibu dealers!
Friday's action was shared between the trade show and Malibu's on-water demo day in Windermere, just minutes from Surf Expo. Team rider Brian Grubb brought his all-black 23 LSV, which is still one of the most appealing boats on the water today. Over 20 dealers showed up from places all over the world like Argentina and Poland to get a first glimpse of the new MXZ and TXi. Eddie Trogdon, an active INT League member was on hand and we also saw appearances from owners like David Henderson and his son Hunter, (8), who just took first place in the Junior Boys division at the WWA World Championships.
The Response TXi already made its mark at the Malibu Open in August, but here, the dealers got a chance to take it for a spin, including Mark Watts from Liquid Sports in Orlando as well as Tommy Phillips from Tommy's Slalom Shop in Denver, Colorado. Tommy was impressed with his continuing tests of the Response TXi. "The TXi handles like a dream, has no wake at 15 and 22 off and very little fluff," Tommy said. "All the skiers at our ski school think it's their favorite boat of all time and I would agree. The drivers seat feels secure and you have command of the boat. There is no glare off the dash like other boats and the simplicity of the operating system is a big plus."
With deep roots in wakeboarding, going back to literally day one, Tommy knows what his customers are looking for in boat design and he likes how the MXZ accommodates everyone. "The MXZ has great wakes for all levels," Tommy said. "Very rampy, clean and smooth! The bow space is maximized and we had four people comfortable up front and they could see all the action as Chad Sharpe put on a show. Deep storage allowed us to have ten people comfortably on board with lots of gear stowed. The auto pull up feature will turn new boat owners into pros at driving their family and friends."
The Auto Pull-Up feature Tommy speaks of is another unprecedented innovation from Malibu and Indmar, and implemented into the line by Danny Gasper, Malibu's Director of Product Design. It allows a rider or skier to record the rate of acceleration they prefer, and the driver just punches the throttle and you will get the same start every time.
The MXZ's Hi-Flow ballast pumps were also a hit. The hoses were enlarged to 1-1/8" with an 1100 GPH pump, which allows an increase in filling speed from 40-50 percent. The riders on hand were impressed with the wake without having to add any additional ballast. Phillip Soven actually got to take this gem home with him.
Dealers came into Saturday's trade show amping on the new boats, and it was a great plus to be able to have them share the on-water experience with others. Lani Farmer also attended the WSIA meeting on Sunday morning, where the board of directors discussed and voted on multiple issues affecting our waterways and industry.
Overall, the Malibu staff and dealers considered Surf Expo weekend a home run. The factory is busy churning out new orders and the sales team are getting geared up for boat show season. Look for new videos from demo day in a matter of days.
###