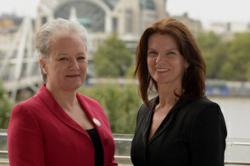 London (PRWEB UK) 27 November 2012
It's been a tough year for business and recession is not the only cause. There's also been a widely reported crisis in effective management across a number of industries. That's why now more than ever, it's important that employees, at all professional levels, are properly equipped with the skills and knowledge they need to journey through the challenging business terrain. Aspire Leadership aim to meet this constantly changing business landscape by offering tailor-made training courses that go straight to the heart of the issue. They respond not only to the specific business needs of the client but, crucially, to those of the individual.
Partnership Directors, Liz McKechnie and Bronia Szczygiel's combined experience in engineering and the performing arts mean they are well placed to appeal to the different requirements and personal styles of the course participants, from technical specialists to creatives. They are keenly aware that individuals learn in different ways, so their approach is versatile using innovative methods underpinned with solid practical theory. To ensure that all requirements are met, uniquely designed features such as specially produced films, sound and word activities and visual stimuli, make up a part of each interactive training course.
Launching immediately are their bite-sized courses for professionals who have limited time or who wish to sample a morsel of the longer training opportunities. The first of these courses is How To Network which will take place on the 26th February 2013 from 6.30 to 8.30pm. Wine and canapés will be provided to encourage those networking skills.
Starting in December 2012 and continuing into 2013, Aspire is also offering a brand new syllabus of exciting one or two-day Public Training Courses for professionals of all levels.
Presentation Skills – Whether it's a question of calming nerves or finessing one's storytelling techniques, these training courses have something to teach both new employees and more seasoned professionals.
Management Skills – Scaled-down businesses and tight budgets mean effective people management is more important than ever. From performance management to project management, these courses cover all the skills needed in order for a company to become a professional powerhouse.
Communication Skills – Once upon a time an order had to be obeyed. Nowadays, managers need to communicate their needs with the urgency and sensitivity required. From 'assertiveness' and 'personal impact' to 'influencing' up and down the line, good communication is an effective short cut to achieving business goals and creating a fun and creative environment in which to work.
Leadership Skills – For newly positioned business leaders or old-timers, Aspire Leadership's courses develop and advise leaders on how to guide their business on its voyage towards success as well as how to be proud of the 'footprint' they leave behind.
For more information, visit Aspire Leadership's new website at http://www.aspire-leadership.co.uk, it's been designed to use a combination of video, text and image to communicate how they design their courses. Aspire promises something for everyone who wants to launch their career and enjoy the journey every step of the way.