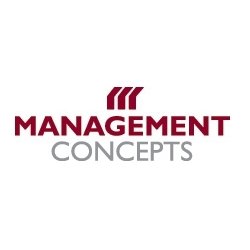 Three institutions with unique synergy in mission, history, and experience open a new path for agencies that demand acquisition program success. I came to Management Concepts because I am passionate about this program. –John Driessnack, Product Director
Vienna, Virginia (PRWEB) May 10, 2011
Management Concepts, the nation's leading training and performance-improvement firm, announced a partnership with the American University Key Executive Leadership Program, an academic leader in public policy implementation and development of extraordinary senior-level leaders, and with MCR, LLC, a premier Integrated Program Management firm delivering strategic planning, cost and schedule analysis, and acquisition management.
The partnership enables federal agencies, government contractors, and their employees several options to meet all training needs for a Senior Program Management Certificate. The programs, the only ones integrated with a top-ranked university, are offered on-site at agencies or at the American University campus in an open-enrollment cohort format. Both approaches address all senior-level Federal Acquisition Certification competencies and aligned skills for Program and Project management (FAC P/PM).
Originally developed between AU and MCR as a 26-day program, the partnership introduces a new 16-day program taught in four 4-day segments. Agencies may enroll for on-site delivery, signing up for a single class or for a series of classes. The 26-day and 16-day programs both share the same core curriculum that meets all FAI requirements. All instructors are AU-approved.
The 26-day program expands on the core and includes a day-long session at Antietam battlefield to enhance participants' experience in leadership and decision-analysis. It ends with a comprehensive case study of a successful federal infrastructure and IT program. The 26-day program at the AU-campus is built on cross-agency learning and is tightly integrated with AU's extraordinary leaders approach; it emphasizes the need for leaders to work collaboratively, change themselves, and overcome barriers to institutional change. The longer program enables students to earn AU master's level course credit and includes an individual coaching option.
Seen as a comprehensive career development approach, Management Concepts' entry- and mid-level FAC-P/PM Certificate programs and AU's Senior Program Management programs create unique opportunities for the federal acquisition workforce at each level. MCR senior-level lecturers—all experienced federal agency consultants—will also teach in entry- and mid-level programs, augmenting Management Concepts' high quality resource network, and reinforcing links between program stages. Management Concepts also provides courses to assist personnel to maintain qualifications and prepare for the next level of Federal Acquisition Certification.
"Management Concepts brings its publishing arm, Management Concepts Press, and a well-marked career path to our Senior Program Management program," notes Robert Tobias, Director of Public Sector Executive Education, American University. "The sum total is a well integrated, well thought-out career map for federal agencies."
Speaking for the MCR contribution, Pat Barker, Director, Product Solutions Group, MCR, LLC, observed that "MCR has 32 years of consulting experience under its belt. The consulting work with civilian and defense organizations we've done has given us an intimate feel for the issues they confront. We are excited about bringing our consulting experience into the classroom. Our lessons-learned will help agencies avoid repeating history."
An Information Session at the National Press Club on May 11, 2011, "How Do We Get There from Here? Building Your Agency's Roadmap to FAC-P/PM Success" will demonstrate the differences between entry-, mid-, and senior-level programs, show how to assess actual needs within agencies—both at the individual and organizational levels—and demonstrate effective strategies for gaining management support for launching a FAC-P/PM program.
"The Management Concepts approach begins with understanding an agency's acquisition career-management goals," John Driessnack, Product Director for Management Concepts, says. "There are several parts in this process. First, agencies need to know their acquisition population—federal and contracted. Then, they assess personnel capabilities in the light of FAI requirements. Not all members of an acquisition team have the same competencies; a proficiency assessment can guide agencies and give their leaders insight into development gaps. We can help agencies identify training they need—no more, no less—based on their goals and resources, and we can work with them to build a cost-effective road map they can really follow."
For more than 38 years, Management Concepts has successfully unleashed the full potential and productivity of over 69,000 professionals yearly through our innovative and highly-effective approach to individual and organizational achievement. Every major agency in the federal government, dozens of state and local government offices, and hundreds of corporations have benefited from the company's high impact training courses, custom learning and development programs, professional consulting services, and award-winning publications. The Company's renowned training programs are delivered "live" in-classroom and online (public and private sessions) to over 312 cities around the world. For more information, visit us at http://www.managementconcepts.com/facppm
Contact: Barbara Kres Beach at 703-790-9595
# # #