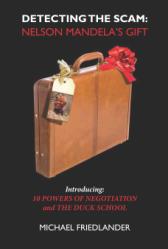 I discovered an unlikely connection between Nelson Mandela and Enron which led me down a slippery slope that revealed a staggering self-delusion amongst some of our finest and brightest who sought to honor Mr. Mandela."
(Vocus/PRWEB) November 29, 2010
Even though they had never met or even talked, Michael Friedlander blames Bill Clinton for "teasing and tormenting" him into writing his critically acclaimed new book. And in doing so, Friedlander remarks, the former president also inadvertently helped shine a bright light on the self-delusion of some of our finest and brightest who honored Nelson Mandela.
In his book's amusing and light-hearted preface (which is available on the web site, as is an audio version read by the author), Friedlander explains how he was channel surfing late one night when he came upon Mr. Clinton pitching his new book to an openly spellbound and adoring audience. Mr. Clinton was saying that, when you turn 50, you should look back and reflect on your life. "Just imagine," he remarked, "if your parents and grandparents had written down their life lessons. What greater gift could they possibly have given you?" This captured Friedlander's attention. He knew Mr. Clinton was right and this started Friedlander on his long journey that culminated in his book. With tongue in cheek, he "blames" Mr. Clinton for this...
"As I started to research my book," Friedlander explains, "I discovered an unlikely connection between Nelson Mandela and Enron which led me down a slippery slope that revealed a staggering self-delusion amongst some of our very finest and brightest who sought to honor Mr. Mandela." He has also noted how our self-delusion had made the scammers' task so much easier in selling us their scams.
Friedlander describes how Enron, then the 7th largest company in the United States, had awarded Nelson Mandela its highest prize for distinguished public service. In so doing, Enron recognized him for the very qualities it didn't have. For Friedlander, the irony was inescapable, but more was to follow. Much to his delight, he then discovered that, only a few months earlier, Harvard had awarded Nelson Mandela an honorary doctorate. In so doing, Harvard recognized him for the very qualities it had failed to teach some of Enron's most senior executives, as well as some other executives and professionals that stood idly by as other scams destroyed their companies and clients. Then, as if this wasn't enough, Friedlander discovered that President George W. Bush awarded Nelson Mandela the Presidential Medal of Freedom. In so doing, President Bush recognized him for his diplomatic skills the very skills the President so lacked at that time in the period leading up to the Iraq war. Finally, not even President Clinton was spared. When he awarded Nelson Mandela the Congressional Gold Medal, he recognized Mr. Mandela's many qualities, not the least of which was his remarkable moral authority. And this was at the very time that Mr. Clinton was enmeshed in the Monica Lewinsky scandal. As Friedlander remarks, he couldn't possibly have made any of this up…
Friedlander raises this provocative question: "What if those who were on the boards of the scammed companies and those who were its closest advisers were more sensitive to Nelson Mandela's qualities, skills and experiences? What if they truly appreciated how his moral authority, dignity, integrity, curiosity, and his courage contributed to his enormous success? What if they had mastered his negotiating skills that he displayed in his historic negotiations with the South African government? Would someone have stood up and raised his or her hand and asked whether what they were being asked to do was the right thing to do?"
Friedlander argues that because scams are essentially negotiating duels between the scammers and their marks, we should learn from Nelson Mandela's enormous negotiating skills. This is why he draws our attention to what he refers to as the "10 Powers of Negotiation" that Mr. Mandela mastered and that included Friedlander's creation, The Duck School, the school of common sense."
Friedlander warns about the dangers we now face. In a recent interview, he notes that, "because harsh economic times creates desperation, and because desperation is a fertile breeding ground for scams, we have to be even more vigilant than ever because of the inevitable looming increase in scams." And that, Friedlander argues, is why Nelson Mandela remains so relevant today. By being more sensitive to his skills and qualities his "Gift" and by being aware of the danger of self-delusion, we will be better positioned to identify and avoid future scams.
But Friedlander raises another troubling issue about our ability to avail ourselves of the Gift. He asks what our best schools are doing enough to highlight Mr. Mandela's Gift and to make their graduates more sensitive to its growing importance. He reminds us of the point by quoting the passage that the Jerusalem Post review highlighted. Speaking after the Enron scandal, Robert Gates, formerly president of Texas A&M University and currently US secretary of defense, acknowledged the responsibility of the nation's universities for the proliferation of fraudulent conduct at least for not preventing it.
"All of these liars and cheats and thieves are graduates of our universities. The university community cannot avert its eyes and proclaim that this is not our problem, that there is nothing we can do or that these behaviors are an aberration from the norm."
Friedlander asks what our schools have done since then to address this and why few, if any, have focused on Nelson Mandela's Gift as a teaching tool to make their students more sensitive to these very issues and qualities that were so noticeably absent from the alumni of these schools when they were working with the scammed companies? Why indeed…
About Michael Friedlander:
For over thirty years as a business attorney and corporate executive, Michael Friedlander has negotiated sophisticated business transactions all around the world. Both as an attorney and later as CEO of an international music company and CEO of an award-winning international architectural design company, he has encountered many of the ethical issues that today's corporate executives face.
Having lived in South Africa during the height of apartheid, he has an unusual perspective on what Nelson Mandela faced in confronting the apartheid government. He has a profound appreciation for Nelson Mandela's moral authority and for his historic negotiations with the apartheid government.
Friedlander received a law degree in South Africa and then studied at the Sorbonne in Paris and at the McGill University Law School in Montreal. He is a member of the California Bar.
Friedlander's new book, Detecting the Scam: Nelson Mandela's Gift, is available from Amazon or from http://www.detectingthescam.com.
For more information about his book, Detecting the Scam: Nelson Mandela's Gift, visit http://www.detectingthescam.com.
Review copies are available upon request and the author is available for interviews.
# # #