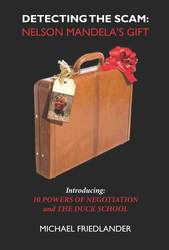 [I]ts value is in the usefulness, trustworthiness and relevance of the framework, the tools and the analysis provided by Friedlander that can be used in any business strategy and negotiation context.
Los Angeles, CA (Vocus) November 10, 2010
In his comments about Detecting the Scam: Nelson Mandela's Gift, Steve Linde, the Managing Editor of The Jerusalem Post, writes:
"So how does one draw a connection between the statesmanship of Nelson Mandela, the sleaziness of Bernie Madoff and Ken Lay and the surreal world of Hans Christian Andersen? Well, Michael Friedlander does it brilliantly, logically explaining in an immensely readable, personable and witty way how Mandela's political principles can be employed as a didactic device to detect financial scams and cry out, like that fantastic child, "But the emperor isn't wearing anything at all!"
In another recent review, Ian Browde also describes the value of the new book in similar terms:
"[I]ts value is in the usefulness, trustworthiness and relevance of the framework, the tools and the analysis provided by Friedlander that can be used in any business strategy and negotiation context."
Browde, who led international business development for Apple when the company expanded into Europe, Asia and Latin America, and who led strategy and business development for Internet Security at Nokia, also sees a practical ongoing relevance of Nelson Mandela and his lessons. As an example, Browde focuses on the importance of integrity:
"Detecting the Scam is compelling as it shows us how critical integrity is in any context, business or otherwise. It shows how leveraging integrity is actually a very powerful approach to doing business and can be the way for 21st Century companies to succeed while cutting the clutter, overruns, stress and generally high cost of the alternatives. The book is relevant because it showcases the decay, deception, manipulation and disingenuousness many people see around them at every level of society right here, wherever that is, right now; especially at work."
Browde also stresses the ongoing relevance of Friedlander's 10 Powers of Negotiation. In his book, Friedlander extrapolated these 10 Powers of Negotiation from Nelson Mandela's extraordinary negotiations with the South African apartheid regime – negotiations in which Friedlander draws attention to Mandela's brilliance, courage and determination.
As Friedlander later explores the application of Nelson Mandela's negotiating gift to three recent high-profile scams, Browde is intrigued by the troubling question that Friedlander poses:
"Relentlessly Friedlander asks over and again how it is that none of the best and brightest minds and leaders saw, or refused to see, the deception as it unfolded? While reminding us of the severity of the scams he analyzes, the author simultaneously, and often with tongue-in-cheek humor, uses his Duck School principles and his Subway Test to drive home the points that lack of common sense and lack of self-awareness can be devastating."
Friedlander's Duck School of common sense and logic is based on similar fundamental principles as those espoused by President Mandela. This is simply the notion that "if it looks, walks and quacks like a duck then it probably is one!" The Subway Test is another funny, yet easily recognized story where, walking through a subway corridor we are offered a Rolex watch for $50. Browde continues:
"When it is obvious that the watch is not an actual Rolex, the author asks whether the mark (any one of us) was truly scammed or whether they participated knowingly in their own deception."
Finally, Browde end his review with this observation about the present value of Nelson Mandela's gift:
"This will enable us to become proficient in designing and implementing ethical, sustainable strategy and to negotiate everything in life, and in business, more effectively."
About the author:
For over thirty years as a business attorney and corporate executive, Michael Friedlander has negotiated sophisticated business transactions all around the world. Both as an attorney and later as CEO of an international music company and CEO of an award-winning international architectural design company, he has encountered many of the ethical issues that today's corporate executives face.
Having lived in South Africa during the height of apartheid, he has an unusual perspective on what Nelson Mandela faced in confronting the apartheid government. He has a profound appreciation for Nelson Mandela's moral authority and for his historic negotiations with the apartheid government.
Friedlander received a law degree in South Africa and then studied at the Sorbonne in Paris and at the McGill University Law School in Montreal. He is a member of the California Bar.
For more information, visit http://www.detectingthescam.com.
Review copies are available upon request and the author is available for interviews.
###