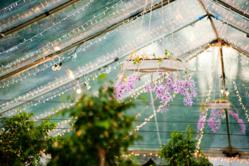 Spring is about new beginnings, which is what a wedding is all about. What better way to illustrate that then with live plants?
San Francisco, CA (PRWEB) March 28, 2013
Spring is all about fresh starts and new growth, so it is the perfect time for couples to tie the knot and start their new life together. Engaged couples who pick the spring season for their wedding get to celebrate the flowers blooming, trees becoming green again and animals coming out of hibernation. Spring and the Easter holiday go hand in hand, but no one wants to see a cookie cutter Easter themed wedding. Mango Muse Events, top destination wedding planner, shares 5 wedding design tips to create a unique Easter inspired spring wedding.
1. Get away from pastels. Traditional Easter colors tend to be soft colors, but think beyond pastels and bring in bright and happy hues instead. Greens are a great place to start. Think grass green with yellows and oranges or chartreuse green with white and gray.
2. Don't go egg crazy! Eggs are great and they definitely read Easter, but keep in mind that this is a wedding and it shouldn't feel like an Easter party for kids. Think about utilizing the shape of an egg (think ovals), but not actual eggs themselves whether it is in a runner, garland or other type of décor. Eggs are considered a fertility symbol, so play with the concept of eggs and instead of a guest book, have guests give sage advice about starting a new family.
3. Bunnies, chicks and birds, oh my! Similar to the eggs, don't go crazy with animals. Unless the couple has a particular love of these animals or are Veterinarians, stay way or incorporate it subtly. Perhaps the photo booth props are all animal related or a use a graphic that looks like bunny ears, but indicates two people as a couple.
4. Bring the outdoors in. Spring is about new beginnings, which is what a wedding is all about. What better way to illustrate that then with live plants? Use live trees, potted plants or flowers as centerpieces or as a part of the decor. Repot small plants or succulents in fun ceramic containers so that guests can both enjoy something live and get to take it home with them as a favor.
5. Incorporate baskets. Easter baskets are big part of the holiday and can bring with it a subtle nod without going overboard. Use actual baskets as a part of the centerpiece or dessert table design. Or use a basket weave graphic on stationery items or as a runner. It will give texture to the design and bring in the Easter feeling as well.
About Mango Muse Events:
Mango Muse Events is a boutique event planning and design firm specializing in customized destination weddings and events both big and small. Mango Muse Events doesn't just plan weddings, they create custom wedding experiences. Marrying their planning expertise with their design creativity, Mango Muse Events takes a wedding or event to the next level by making the process and the event completely customized. Mango Muse Events is based in the San Francisco Bay Area and orchestrates events across the world from California to Bali, Mexico to Italy, New York to the Caribbean, Hawaii to Paris and everywhere in-between. Please visit http://www.mangomuseevents.com for more information.