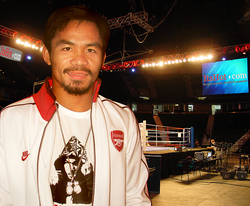 It is incredible looking. It is so beautiful. I will cherish it.
New York, NY (PRWEB) December 10, 2008
Boxing's pound-for-pound superstar Manny Pacquiao won big at the MGM Grand on Saturday December 6, 2008. He sent Oscar De La Hoya into retirement, made $11 million, and took home a one of a kind pair of custom Diamond boxing gloves from ItsHot.com Diamond Watches and Jewelry.
On the night of the fight there was a high level of focus for the champ. After he gathered his team together in his huge suite at Mandalay Bay in Las Vegas for final prayers before the big fight, ItsHot.com gave a good luck charm that would be sure to blind any opponent. Manny Pacquiao remarked on the Diamond pendant stating, "It is incredible looking. It is so beautiful. I will cherish it."
Christopher Hernandez, Director of Marketing of ItsHot.com said, "They are custom Luccello brand diamond boxing gloves, handcrafted to highest standards with amazing detail and feature just under 20 carats of high quality G color and VS clarity diamonds made especially for the champ." The estimated value of the piece was a whopping $69,000.
ItsHot.com affordable diamond jewelry and diamond watches superstore is already well known for being the first stop for celebrities and athletes to get their Luccello brand Diamond jewelry. Their celebrity clientele includes Sean Kingston, Flo-Rida, Kim Kardashian, Nelly, Ja Rule, The Game, Snoop Dogg, Trina, Rick Ross, Akon and so many more.
ItsHot.com Diamond Watches and Jewelry has 1000's of genuine Diamond and gold products priced affordably starting at just $99 to over a $1,000,000. Visit ItsHot.com to learn more about the latest discounts and specials on diamond watches and jewelry.
###