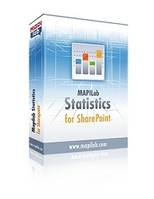 Seattle, WA (PRWEB) November 8, 2010
MAPILab presents a new product – MAPILab Statistics for SharePoint 2010 – an effective solution for web analytics and behavior researches of visitors and users of web sites and portals researches, which are based on Microsoft SharePoint 2010 platform.
Today, the SharePoint platform confidently holds the leading position in the field of storage of corporate information and organization of internal corporate workflows. In addition to internal corporate portals, SharePoint provides comprehensive opportunities in the field of web development including easy integration of intranet and Internet resources of a company.
It is obvious that such complex structures require special tools to get data in order to analyze portals, sites, and various activities of visitors / users.
Such a tool is called MAPILab Statistics for SharePoint, it provides reports that are a source of important generalized and detailed information about the site, its sections and visitors, about the information that is needed by the various business units: IT departments, system administrators, project managers, editors of web sites and portals, marketers, managers, etc.
MAPILab Statistics for SharePoint 2010 is designed specifically for use along with Microsoft Office SharePoint Server 2010 and SharePoint Foundation 2010. Data from the reports of MAPILab Statistics for SharePoint 2010 cover such aspects of corporate web site / portal, as activity and behavior of the visitors, traffic and its dynamics, use of the site's content, use of search service, etc.
"On the basis of more than three years of experience in the field of development and sale of a similar solution for SharePoint 2007, in our new solution – MAPILab Statistics for SharePoint 2010 – we took into account the wishes of many customers and our rich experience in order to make the new solution as easy and comfortable as possible. We managed to provide more functions, while maintaining the full integration with SharePoint. The fact that the new solution is easy to implement and use, as well as the effective pricing and the forthcoming mass implementation of SharePoint 2010 in the corporate market – are the key factors of the new solution's success." – said Andrey Manchuk, MAPILab CEO.
The 30 days trial version of MAPILab Statistics for SharePoint 2010 is available for download from the home page of the product: SPStats.com.
The specialists from MAPILab will also be happy to offer you an online demonstration of the product and answer your questions.
# # #