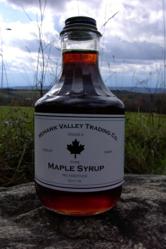 New York (PRWEB) March 13, 2013
Maple syrup producers in New York State are keeping their fingers crossed in hopes that the weather will continue to cooperate this year to make up for last year's dismal season.
"Last year was a disaster with temperatures in the 70s and 80s this time in March," said Chris Schoff, owner of Schoff's Sugar Shack in Victor where he has about 1000 taps. "March 12th was the last syrup that we made last year."
Mr. Schoff expects to make around 200 gallons of syrup each year and if the weather continues to cooperate this year, he hopes to make more.
"I'll be producing weeks after I did last year, absolutely," said Schoff.
"The last few weeks we've had a lot of cold nights and a few warm days so we made a little bit of syrup," said Gregory Keyes, owner of Trout Brook Sugarhouse in Honeoye Falls "but we doubled our production in the last days, the sap began to run."
"So far so good," said Mary Ross of the Mohawk Valley Trading Company where their maple syrup is made primarily from sugar maple sap. Sugar maple sap is preferred for maple syrup production because it has an average sugar content of two percent. Sap from other maple species is usually lower in sugar content, and about twice as much is needed to produce the same amount of finished syrup. "but it aint over yet." Ross continued "We are keeping their fingers crossed in hopes that the weather will continue to cooperate this year to make up for last year's dismal season."
"Maple syrup and sugar have played an important role in our nation's history." Ross said "After the passage of the 1764 Sugar Act, which imposed high tariffs on imported sugar, maple sugar became even more popular. Before he became president, Thomas Jefferson liked the idea that maple sugar could be produced by citizens of the new nation and sever it's dependence on sugar grown on plantations in the British Caribbean. And at the end of a visit to Vermont, in a speech he gave in Bennington, Jefferson said, "Attention to our sugar orchards is essentially necessary to secure the independence of our country."
About Maple Syrup
Next to honey, maple syrup is the most popular natural sweetener in North America and its production predates European colonization. Early Native American societies in Canada and the northeastern United States were distilling maple tree sap making maple syrup and sugar before those geographic boundaries existed. Maple sugar is made from the controlled crystallization of maple syrup and takes several forms.There is no written record of the first syrup production but several native legends persist. Many tribes celebrated the short maple sap collection season with specific rituals.
The Native Americans collected maple sap from v-shaped notches carved into maple trees. The sap was diverted into birch bark buckets using bark or reeds. It was concentrated by placing hot stones into the buckets or by freezing the sap and removing the ice, which is composed only of water.
When Europeans reached northeastern America they adapted native techniques to make their own maple syrup. The v-shaped notches were replaced with auger-drilled holes. This practice is less damaging to the trees. Bark buckets were replaced with seamless wooden buckets carved from lumber rounds. The method of sap concentration also changed from passive to active. Large amounts of sap were collected and brought to a single area where it was boiled over fires in round cauldrons until reduced to the desired consistency. 'Sugar shacks' were built expressly for the purpose of sap boiling. Draft animals were often used to haul fire wood and large containers of sap for sugaring. Maple syrup was an important food additive in early America because imported cane sugar was not yet available.
In the mid-1800's syrup production changed again. Round cauldrons were replaced by flat pans in order to increase surface area and therefore allow for faster evaporation. Over the next 60 year several variations on this design were patented. Draft animals were replaced by tractors and heating methods expanded to include propane, oil and natural gas as well as wood.
The Mohawk Valley Trading Company offers the highest quality unprocessed natural products they can produce namely; maple syrup, raw honey, beeswax candles, natural skin care products and handmade soap. In addition, they offer natural stone, tea and spices from around the world such, Demerara sugar, Madagascar vanilla beans, Vietnamese cinnamon, vanilla beans, ground vanilla beans, vanilla extract, allspice, cloves, ginger, nutmeg and mace.
Hours of operations are 7:00 a.m. to 7:00 p.m. EST, seven days a week. Reach them at (315)-519-2640 to learn more.