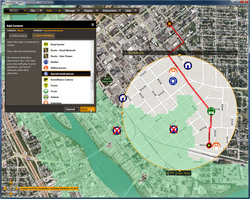 What if this levy broke? What would flood? What areas would be cut off from rescuers?
Seattle, WA (PRWEB) December 17, 2008
Depiction, Inc., released affordable new "what-if" mapping software for emergency managers and others -- at a price that helps them with their own economic emergencies. Comparable to systems costing $1,000 and up, Depiction's radically lower price tag of just $89 makes it "recession-accessible" even for cash-strapped municipalities, nonprofits, and individual volunteers.
"We're pleased to bring this new category of 'what-if' mapping software to everyone who uses maps. With Depiction, anyone can create and interact with scenarios in their community that they care about," explained CEO Mike Geertsen. "Though emergency managers will find Depiction particularly revealing, it will benefit anyone whose job or interest involves maps in planning or operations. We've combined innovative and essential features that would cost you $1,000 or more, all at our consumer-oriented price of $89."
With the recession and housing crisis stressing local governments, Depiction's lower price means that more community services can apply this new what-if mapping software to explore, prepare for and manage disaster scenarios. That's particularly good news for police, firefighters and other first responders who need what-if mapping tools.
Levon Yengoyan, a small town Assistant Fire Chief volunteer in Washington State, said reactions last week at the NW WA Geographic Information Systems Users Group ranged from one GIS manager's observation, "I've been looking for a year and not found anything like this for under $20,000," to a community transit worker's question, "Wait a minute. I have to come back to this price thing. Is it really only $89?"
The low price even enables Depiction's application in the housing crisis itself. Michael Dinn, CRE, President of Dinn Focused Marketing, uses Depiction to help cities such as Detroit analyze urban areas hardest hit by foreclosures and other subprime crisis fallout. "For under $100, Depiction gives me a capable venue for real-time data integration...that costs thousands less than other data/mapping platforms," he explains, predicting that "Depiction will quickly become the most effective tool for any planner to integrate planning data and real property information. I've already taken my analyses and presentations to a new level with this intuitive and visually impressive platform."
Depiction comes at a low price but with high power and ease of use. "What really impresses me about Depiction is that it was so fast and easy to learn," notes Carol Dunn, an American Red Cross CDE Program Manager in Washington State. "Within moments I realized that I can use the software for so many purposes: vulnerability analysis, disaster assessment, scenario testing, planning, and education."
During hurricanes Gustav and Ike, Depiction 'saw action' as emergency managers used the what-if mapping software in real on-the-ground disaster planning and operations. "In Gustav we transferred 15,000 animals in 133 refrigerated tractor trailers, with stops every 2 hours," explained David Friedman, Disaster Response Coordinator for the non-profit MuttShack Animal Response Team. "Depiction was essential in coordinating transport between 19 different pickup points and sheltering in Shreveport."
In Hurricane Ike recovery efforts, The Salvation Army deployed Captain Dana Libby, who noted, "Depiction enabled us to upload information concerning command posts, field kitchens, fixed feeding sites, and points of distribution. We could easily update and track resources as frequently as necessary, uploading Excel tables into Depiction. This allowed highly flexible communication of detailed information to field commands and headquarters units."
Much like a "serious game" Depiction is easy-to-use software that runs on standard laptop and desktop PCs. Depiction's powerful mapping technology allows users to quickly depict scenarios that answer "What if" questions. For example: "What if this levy broke? What would flood? What areas would be cut off from rescuers?" In an emergency, Depiction provides such rapid and intuitive scenario mapping integrated with live reports transmitted from other locations.
Usable both on-line and off-line, Depiction provides free access to public data about communities, such as satellite images, road networks, elevation, and more. Users can add their own images and information such as a spreadsheet of volunteers, a scanned paper map or fax. Once they've created their depictions, they can save and quickly share them with others or present them to an audience when Internet access may not be available.
While Depiction is a powerful tool for emergency preparedness, it's also an extensible software "platform" for depicting all types of geographic-based scenarios and stories about a community. Depiction's website examples address not only emergency managers with applications such as nursing home evacuation, but also what-if mapping for security, military, business and other planning.
New users may purchase the what-if mapping software Depiction and download it directly from the Depiction website, or take advantage of an introductory two-week trial offer at http://www.depiction.com/trial .
About Depiction, Inc.:
Seattle area Depiction Inc.'s team includes Microsoft alumni, a retired US Navy Captain, active-duty firefighters, computer science PhDs, and a world-class team of software developers.
Contact:
Elon Gasper
Depiction, Inc.
425-297-1950
http://www.depiction.com
###