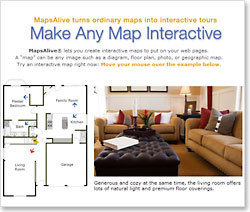 MapsAlive is a great tool to land more listings and attract more buyers. It gives you a marketing advantage over your competitors by improving the effectiveness of listings on your website
Waitsfield, VT (PRWEB) February 12, 2008
AvantLogic today announced MapsAlive, a web-based application that allows real estate agents to easily turn an ordinary floor plan into an interactive sales tool with the addition of "pop-up" photographs and captions. With MapsAlive, buyers can explore a home online -- view any room, look out a window at a view, go upstairs, see what the home looks like from the street, and more -- in any sequence at their own pace.
"MapsAlive is a great tool to land more listings and attract more buyers. It gives you a marketing advantage over your competitors by improving the effectiveness of listings on your website," writes Chandler Peterson of Realty Technology Review. "For me viewing a MapsAlive tour was better than a 360° virtual tour. I felt like I was able to peruse a property in a more natural way."
With MapsAlive, real estate agents have the flexibility to display floor plans of all sizes and shapes in a variety of layouts. For expansive floor plans, like those for estates and commercial property, special zoom and pan controls let buyers drag and zoom to see areas they are interested in.
Real estate agents can embed MapsAlive interactive floor plans directly into their own web pages for a seamless presentation that entices potential buyers to view the property in more detail. In addition, MapsAlive can be used to create and host stand-alone web pages containing the interactive floor plans. Stand-alone pages can appear with the real estate agent's branding, can be linked to from the realtor's website, or used alone as a single property website.
To receive a free membership to MapsAlive, visit the Company's website at: http://www.mapsalive.com. A brief video showing how easy it is to create an interactive floor plan is available at: mapsalive.com/videos/floorplan
About AvantLogic
AvantLogic is the creator of MapsAlive, a web application that lets anyone create interactive maps for web pages. A map can be any image such as a diagram, floor plan, photo, or geographic map. Interactive maps allow viewers to move their mouse over markers to quickly gather information and see images and text associated with locations on the map. MapsAlive is most popular among residential and commercial real estate professionals, and is also used to create interactive web content for travel and tourism, education, and law enforcement.
Based in Waitsfield, Vermont, AvantLogic was founded in 1999 as a software consulting company specializing in web applications, commercial grade software, and safety-critical computer systems. Clients include ABC Television, Bombardier, DaimlerChrysler and the New York Power Authority. AvantLogic launched MapsAlive in 2007, and is now focused on making MapsAlive the premier tool for creating online interactive map tours.
Contact:
George Soules
802-496-9140
http://www.mapsalive.com/
###