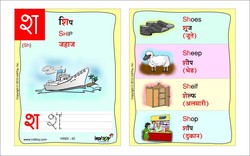 I already have the Marathi version for my son, Rahul and he loves it
Columbia, MD (Vocus) March 30, 2010
IndiToy, Inc is redesigning and revolutionizing the way people learn the language of Marathi. The product is an educational teaching toy in the form of flash cards and practice charts to write out and sound out the different letters and words without the need of a tutor. The amazing aspect about these products, they are for everyone and are easy to use, effective and authentic.
"I already have the Marathi version for my son, Rahul and he loves it," Mrs. Gandhi.
"It is a great learning toy, my granddaughter enjoys the lovable characters and being able to relate to the pictures and words, since she loves dolls and dogs," Mrs. Sarwate.
In a recent study mentioned in Indian Express, "as many as 3,150 Americans went to India to study in the year 2007-08, which is a jump of nearly 20 percent from the previous year and coincides with the growth of the Indian economy and its emergence as a regional and global player." Based on this statistic, because more Americans are moving to India for work and education, IndiToy's product would have been beneficial to them. Had they received it before they moved, they could have become more fluent in the language, thus feeling more at ease communicating with their business colleagues, friends, and professors in India.
As IndiToy, Inc. is getting ready to launch their products; they are also working to incorporate their toy in local schools and daycare centers, so students can start learning at any age. This will give them a significant advantage over their competitors all through grade school, high school, and college, and in the job market.
IndiToy, Inc., established in 2009, has continuously maintained their focus and goal to teach kids of any descent to learn Marathi and broaden their horizons as well as expand their minds to establish a connection with another culture, which in turn can help them in their future endeavors.
For more information, visit http://www.inditoy.com
###