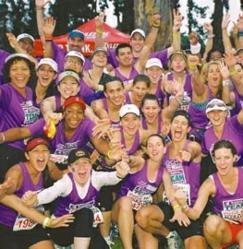 I run as a show of gratitude for my life that came after my illness.
Burlingame, CA (PRWEB) October 14, 2011
After surviving Hodgkin lymphoma, Ann Altman has decided to celebrate the gift of life by helping to further cancer research. She joined up with Team In Training, a Bay Area marathon training group, to become a marathon runner and raise funds to benefit the Leukemia and Lymphoma Society. After gaining back her strength and getting into the best shape of her life, Altman will join thousands of people dedicated to finding a cure in the Nike Women's Marathon in San Francisco on October 16th.
Ann Altman hadn't run since the 800-meter race in 7th grade, but when an old friend called from Chicago and dared her to train with her for their first marathon, she couldn't turn her down.
"There I was, stunned and with no good excuses," Altman said. "My friend Jenna, who had almost completed treatment for a rare type of lymphoma, wanted to sign up to train with Team In Training, and raise money for cancer research and The Leukemia & Lymphoma Society. I was amazed at her stamina. And then I started to think about how important it is to her – and to me – that we survived cancer," she said. "And so this run would be our celebration of the life we've been given after cancer."
Altman is also a cancer survivor, of Hodgkin lymphoma. She was diagnosed at 23, eight years ago, and endured 12 sessions of chemotherapy. The treatments are debilitating, and often leave patients physically weak, so it took Altman several years to fully return to athletics. After a full recovery, she became more physically active than she had ever been before, to strengthen her body after all it had been through. Her first marathon is the Nike Women's Marathon to benefit The Leukemia & Lymphoma Society, set for October 16 in San Francisco.
"Now, as I train with the North Peninsula run team," Altman said, "I realize how grateful I am to be alive. I run as a show of gratitude for my life that came after my illness. If it weren't for well-funded scientific research, I wouldn't be here."
Altman is part of Team In Training's group of 3,700 runners and race-walkers at the Nike Women's Marathon, who together have raised more than $12.7 million for cancer research and patient services. It is the largest race to benefit LLS (raising $118 million since 2004). LLS has raised more than $1 billion in two decades through its Team In Training program.
Altman is often asked to speak to her teammates about her experience with cancer, giving them a first-hand glimpse of the miracles of modern medicine that they are helping to support.
"I guess I never wanted my whole life to be about cancer survival, but with this group I feel I'm right where I need to be right now. Team In Training allows me to show what life looks like after a cancer diagnosis – that life goes on, and can return to normal," she said. "And now I'm actually going to run a marathon! I should thank my friend, Jenna, for calling me."
TNT is now forming Bay Area triathlon training, marathon training, and half marathon training teams for the upcoming season. To learn more about TNT, visit http://www.teamintraining.org/sf. To make a donation to Altman's TNT fundraising efforts, http://pages.teamintraining.org/sj/nikesf11/aaltmankpy#Things-I-thought-Id-Never-Do.
About Team in Training
Team In Training (TNT) offers marathon training, half-marathon training, and triathlon training. TNT began in 1988, when Bruce Cleland of Rye, NY formed a team that raised funds and trained to run the New York City Marathon in honor of Cleland's daughter Georgia, a leukemia survivor.
The team of 38 runners raised $322,000 for LLS's Westchester/Hudson Valley Chapter. Because of the pioneering efforts of Cleland and the Westchester/Hudson Valley Chapter, Team In Training was born and has grown into the world's largest endurance sports training program. Cleland was honored by Runner's World magazine in 2004 as one of their "Heroes of Running" for his role in establishing TNT.
Whether participants choose The Leukemia & Lymphoma Society's traditional Team In Training program or TNT Flex, a flexible, customized online training option developed by TNT's renowned coaches, they get all the support they need to cross the finish line at the marathon, half marathon, triathlon, century ride and hike adventure of their choice. Both offer a choice of world-class events, travel arrangements to an exciting destination, and a fabulous, activity-filled weekend once they're there.
About The Leukemia & Lymphoma Society
The Leukemia & Lymphoma Society (LLS), headquartered in White Plains, NY, with 68 chapters in the United States and Canada, is the world's largest voluntary health organization dedicated to funding blood cancer research and providing education and patient services. The LLS mission: Cure leukemia, lymphoma, Hodgkin's disease and myeloma, and improve the quality of life of patients and their families. Since its founding in 1949, LLS has invested more than $750 million in research specifically targeting leukemia, lymphoma and myeloma.
For more information about blood cancer, visit http://www.LLS.org or call the LLS Information Resource Center (IRC), a call center staffed by master's level social workers, nurses and health educators who provide information, support and resources to patients and their families and caregivers. IRC information specialists are available at (800) 955-4572, Monday through Friday, 9 a.m. to 6 p.m. ET.
# # #