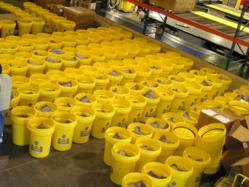 Spill kits should be kept at arms length, literally.
Meidian, Idaho (PRWEB) March 12, 2013
Life is messy, people spill things in grocery store aisles, machines leak oil, and containers give way. Not every instance requires specialized clean up, but businesses need additional resources to keep workers and customers safe. Relying on the appropriate kind of absorbents makes sense. So how does a company go about choosing the right equipment? This quick primer will make the choice easier.
Step One: What kind of liquid could be spilled? This answer will guide the buyer to the right kind of absorbents in the kit. There are unique properties for sorbents and depending on the leak, each kind has a different ability. If the only liquid is oil, then oil only sorbent would be a good choice. This wicks away oil while leaving other liquids intact. Leaking something else, like water? Then a universal absorbent will do. Universal sorbents soak up all liquids, including oil; they do not separate the liquids like oil only booms or pads.
Step Two: What is the maximum about of possible leakage? Knowing the spill volume will be the answer to how big a spill container is required. Most kits range from a few gallons to in the hundreds. This number, the amount of possible spillage, is the starting benchmark. This is where comparisons between spill kit manufactures get tricky. Some say the container is 50 gallons, yet only hold enough materials to contain 40 gallons of spilled fluids. It is important to check contents as well as sizing.
Step Three: What kind of kit is needed? There are many kinds of kits, some are duffel, some are buckets, and some are DOT approved drums that can be transported and incinerated. The decision between types will depend on the fluids or material being clean up and whether it will need to be disposed of in a secure manner. A transmission fluid spill will require less stringent disposal than blood or acid.
Step Four: Contents of the spill kit. There are many different types of absorbents to choose. Some surround a spill, like boom, some soak up spills like pillows and some wipe up spills like pads. Most standard kits contain all three types of clean up material, however it is easy to request specific materials be included. What else usually comes standard? Goggles, gloves, a handbook with instructions, bags to put the used materials in, and zip ties to close the bags. PPE, or personal protection equipment, aside from gloves and goggles might also be part of the containment kit.
Step Five: Spill Logistics and instructions. Keeping spill kits near possible leaks will save valuable clean up time. The closer the kit, the faster it can be utilized. Kits should be spaced within a few feet of machinery, and on board truck and trailers, also anywhere drums located. Workers need to be able to read instructions quickly. If non-English speakers are the designated spill monitors, have instructions in a language can be read and understood. Always keep kits close and restocked. Having an empty spill kit is useless. Designate a person in each area to check inventory levels often.
For visual learners, here is an infographic explaining spill kit choice matrix.
To learn more about spill kits and other spill containment devices contact AIRE Industrial at 2021 E Wilson Lane, Meridian, Id, by phone at 800-247-3846 or via the Web site at http://www.aireindustrial.net
ABOUT AIRE INDUSTRIAL- The founders of AIRE Industrial are outdoor enthusiasts, protectors of the environment, and take pride in using American sourced materials and keeping jobs local. AIRE Industrial manufactures and distributes a complete line of spill kits, portable secondary containment berms, flexible storage tanks and bladders as well as Eagle material handling equipment and stormwater containment supplies. All products are available for sale at the Aire Industrial online store.
AIRE Industrial has offices in Idaho, Washington, North Dakota, and partners in Europe, Asia, North Africa, New Zealand, The Middle East and South America. AIRE Industrial is a division of AIRE Inc. AIRE Inc. is the largest inflatable boat manufacturer in the U.S. and is recognized around the world as the premier builder and innovator of water recreation crafts.