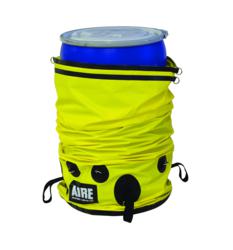 A Smarter, Smaller Drum Containment Device.
Meridian, ID (PRWEB) March 26, 2013
55-gallon drums are some of the most useful storage containers however leaks and punctures can happen. A new product designed by Aire Industrial offers a sleek and safe way to keep drum spills from affecting the workplace and the environment.
The Encapsa Berm, manufactured and sold by AIRE Industrial, is the perfect short-term spill management solution for a leaky or damaged drum. Simply slide the drum inside the containment device and roll down the top to create an airtight seal that confines all liquids
Most 55-gallon drum containment is rectangular or square in size. Most drum containment products are made out of molded hard plastic. Why are products for mobile, cylindrical drums so immobile and ill fitting? These questions are answered by a new drum product that was specifically tailored for space saving and mobility. The Encapsa Berm is a drum confinement product that literally encapsulates the drum, bypassing the need to sit it on any type of plastic spill platform or pallet.
The benefits of the Encapsa-berm for 55-gallon drums are numerous:
Smaller footprint than conventional drum pallets
Drums can be individually contained
Any leak with not cross contaminate from drum to drum
Transporting a leaky drum is easy, spills are held inside the containment unit
Spill prevention is simple, initially place the drum inside the Encapsa berm
Field use of the drum container requires minimal space to transport
Can be air-lifted or fork-lifted
Using modular spill platforms and pallets are not the only way to achieve workplace compliance and safety for storage of 55-gallon drums. Other methods can provide safe and reliable drum spill containment. Storing leaky drums on heavy and inefficient surfaces that are hard to maneuver and take up precious floor space can be overcome by using an Encapsa Berm.
Salvage and clean up efforts benefit from using the drum containment device. Field operations can haul numerous Encapsa's to sites where large and heavy pallets would be impractical. Slinging drums enclosed in the berm enables crews to quickly gather a larger number of drums. Transporting more drums are possible, as the containment berm has a significantly smaller footprint than a traditional pallet. The Encapsa Berm delivers secure and dependable drum leak containment.
For more information on this and other drum containment solutions, contact Aire Industrial, 2021 E Wilson Ln, Meridian, Id 83642, 1-800-247-3846 or visit http://www.aireindustrial.net where information, photos and supplemental chemical compatibility charts can be found.
About AIRE Industrial:
Located in Meridian, ID, AIRE Industrial has combined its technical knowledge and manufacturing expertise of flexible textiles to provide containment products and spill prevention solutions for government agencies, military, agriculture, environmental containment, and the wild land fire suppression industries.
The founders of AIRE Industrial are outdoor enthusiasts, protectors of the environment, and take pride in using American sourced materials and keeping jobs local. AIRE Industrial offers a complete line of portable secondary containment berms, flexible storage tanks and bladders as well as spill kits and containment products. AIRE Industrial has offices in Idaho, Washington, North Dakota, and partners in Europe, Asia, North Africa, New Zealand, The Middle East and South America. AIRE Industrial is a division of AIRE Inc. AIRE Inc. is the largest inflatable boat manufacturer in the U.S. and is recognized around the world as the premier builder and innovator of water recreation crafts. The majority of professional river guides trust their lives and reputation on the quality and durability of Aire inflatable boats and personal recreation craft.