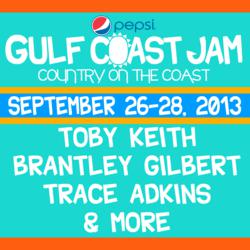 It will be the ultimate country music fan celebration and getaway all wrapped into one
Panama City Beach, FL (PRWEB) March 15, 2013
Event organizers along with Pepsi announced today that Toby Keith, Brantley Gilbert, Trace Adkins, Eli Young Band, Kip Moore, Charlie Daniels Band, Pepsi's X Factor Winner Tate Stevens, Darryl Worley, Blackberry Smoke, and Pepsi's Southern Original Winner are the first to join Pepsi Gulf Coast Jam's lineup! Pepsi Gulf Coast Jam is a debut country music festival coming to Panama City Beach, FL September 26-28, 2013.
Pepsi Gulf Coast Jam will have six stages, providing "country on the coast" for an audience upwards of 15,000 people. During the day, three beachfront stages will be hosted by Edgewater Golf & Beach Resort, The Boardwalk Beach Resort, and Seahaven Beach Resorts. Festival-goers will be able to watch their favorite performers as they stand on the white "sugar sand" beach and dip their toes in the water. As the sun begins to set, patrons will ride free shuttles to the headline stage at Frank Brown Park. Once Toby Keith, Brantley Gilbert, and Trace Adkins close out their respective nights, the fun will continue at the late night venue Club La Vela, the largest nightclub in the USA. An additional surprise late night venue will be announced soon.
Anticipating the festival, Pepsi Gulf Coast Jam Executive Producer, Rendy Lovelady (@ProducerJam) says, "Pepsi Gulf Coast Jam's entrance into the festival market is going to be huge. Not only does the event have a massive lineup, it is a destination location. Festival-goers will come for the music, but I know they will be just as excited to experience Panama City Beach and everything that comes along with it. It will be the ultimate country music fan celebration and getaway all wrapped into one."
Closing out the three-day festival is Built Ford Tough's Toby Keith. From Toby's first No. 1 smash "Should've Been A Cowboy" to his latest release Hope On The Rocks, Toby Keith has been one of the most consistent self- directed hit makers of his era. The title track of this latest album is now racing up the charts. From Clancy's Tavern, his previous collection, the lead single, "Made In America," topped the charts as one of the fastest rising songs in a long line of chart burners from Keith's pen. The second hit, "Red Solo Cup," has become the most remarkable and commercially successful country single in recent memory with a viral video with more than 20 million views while topping the top downloaded country songs.
Friday night will end with a bang as ACM New Male Vocalist, Brantley Gilbert, headlines the main stage. While on the road the past five years, Gilbert has built a brand through his compelling lyrics and dynamic live show, a combination that attracted a strong underground band of believers who shared Gilbert's passion for life and music; pretty soon his following had taken a life of its own. As Gilbert tells it, "We don't have fans, we have friends. I like to think that those people in the crowd are just like me. They listen to songs, they get the meaning and get the purpose and they get something out of it." It is this rabid fan base that became the first members of what is now known as the BG Nation. On March 16, 2010, the rising star released his sophomore album, Halfway to Heaven, the follow-up to his debut national release, A Modern Day Prodigal Son. The sophomore effort peaked at #2 on iTunes Country Album Charts, at #1 on the Billboard Heatseekers Album Chart for all genres, and produced back to back #1 singles with "Country Must Be Country Wide" and "You Don't Know Her Like I Do."
Headlining the Thursday night stage is the multi-talented Trace Adkins. In the fifteen years since his platinum debut, Trace Adkins has released ten studio albums, three greatest hits packages, and thirty chart singles. He has also racked up four Grammy nominations and five ACM and CMT awards. Accomplishments like that – along with sales in the tens of millions – explain the respect Adkins has earned from Country fans and the industry alike. But there's more. In recent years, Trace has made his mark as a TV and film actor, a voiceover artist, an author, a social commentator, a participant on NBC's Celebrity Apprentice, and even the inspiration for a series of comic books. Currently, you can catch Trace on NBC's All-Star Celebrity Apprentice, supporting the charity of his choice, the American Red Cross, airing Sundays on NBC.
Pepsi Gulf Coast Jam is hosting a competition in order to find a Pepsi Southern Original Artist. The competitions will take place in various cities throughout the Southern United States. One finalist will be chosen per city. These finalists will compete Wednesday, September 25, 2013, at Club La Vela in Panama City Beach, FL for the title of Pepsi's Southern Original Artist. The winner will not only win an independent deal, allowing them access to national booking, management and a national singles deal, but will also have the grand privilege to open for Toby Keith on Saturday night.
Lodging packages, which include tickets to the three-day event, are on sale now. Links to participating lodging partners' websites and purchasing information can be found at http://www.gulfcoastjam.com. Beginning in May, three-day tickets, providing patrons access to all of the six stages and free shuttle passes, will go on-sale to the public.
Pepsi Gulf Coast Jam is a production of PCB Entertainment, LLC. For more information about Pepsi Gulf Coast Jam's lineup, VIP & General Admission Tickets, lodging partners, directions, partnership opportunities, parking, and vendors, please visit http://www.gulfcoastjam.com.
Connect with Pepsi Gulf Coast Jam:
Facebook: http://www.facebook.com/gulfcoastjam
Twitter: http://www.twitter.com/gulfcoastjam
YouTube: http://www.youtube.com/gulfcoastjam
Instagram: http://www.instagram.com/gulfcoastjam