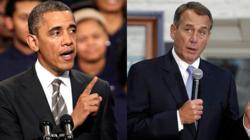 "the automatic cuts triggered by a sequester would reduce loan guarantees to small business by up to $902 million."
- Whitehouse.gov
Austin, Texas (PRWEB) March 06, 2013
What do Yahoo's Marissa Mayer, the US Congress and Kmart have in common? Outside of making it into this month's Top Five Tech Events, they have driven a storm of controversy within the small business world. ChooseWhat, a leading resource for entrepreneurs and small businesses, provides a recap of the hottest events to hit the small businesses this February and they are impacting their industry. Don't miss out on a big opportunity for your company and get the details on the Sequester, telecommuting's newest rival, the Google Glass Slip-up and more with ChooseWhat's take on the latest small business events you should know about.
1) The Sequester Strikes: At the beginning February, all eyes were focused on the President's State of the Union and several proposals set forth; most controversially, the living wage plan. Now, as the month has drawn to a close, the Sequester and its inevitable impacts on the American people seems like the only thing keeping the 24-hour news networks from fading into obscurity. As the deadline has come and passed, we are now left to deal with the consequences.
How this applies to you: Many news outlets have focused on the effect the Sequester would have on small businesses. According to Whitehouse.gov, "the automatic cuts triggered by a sequester would reduce loan guarantees to small business by up to $902 million." Since small businesses create two-thirds of all new jobs in America, this effect is definitely one that will put the economy's recovery in jeopardy. (via WhiteHouse.gov)
2) Backwards Workplace Innovation?: Other big news last month came from Yahoo! CEO Marissa Mayer's decision to call all employees working from home back to the office, or face termination. Given the reasoning contained in Yahoo!'s HR department email, the abrupt change in the business' operations made sense at first; these workers weren't productive and other tech top tech companies (namely Facebook and Google) require employees to be on-site. However, since this news broke, there has been a large amount of criticism towards the move, with many saying that it's a backwards step in the evolution of the workplace. (via Economist.com)
How this applies to you: Whether or not your company allows employees to work from home, this move by such a prominent corporation is sure to have an impact on us all. Many businesses will start delving into intricate details of worker productivity and benefits of in-office collaboration. While it may be easy to count the dollars and cents of one method versus the other, the benefits coming from the flexibility of working from home is a major benefit to consider in the evaluation.
3) Koding for Kids! (and everyone, for that matter): Last week, a video put out by Code.org went viral the included the likes of Bill Gates, Mark Zuckerberg, and even NBA star Chris Bosh. The main purpose of the video is to get computer programming taught in more schools. While the desired effect won't be known for some time, the subsequent buzz on various social networks seems to reflect a social push towards the urge for everyone to be more code-savvy. Code.org is one of various organizations that not only is pushing for a change in education curriculum, but also has coding lessons taught on their website. (via TechCrunch)
How this applies to you: Learning how to code is not just imperative for entrepreneurs in the tech industry, it is also very useful for just about anyone; especially those who run their own business. The logic behind computer language teaches programmers not just how to code, but how to think and solve problems effectively. Having this multi-purpose skill under your belt is a priceless talent.
4) Google's Glass Slip-up?: The Internet has been abuzz this past month with the release of Google Glass' first commercial showing the actual device itself. Many are quick to point out that it bears little resemblance to the glasses imagined in the "Project Glass" video released in April of last year, as now the "glass" itself only takes up a small corner on the right side of the frames; not the entire lenses as was once envisioned. In addition, privacy concerns are popping up since users can snap photos and record video without anyone else knowing. These two issues bring about a much larger problem; will the general public actually ever adopt this technology in their everyday life? (via CNN.com)
How this applies to you: One of the main concerns for small businesses (especially brick and mortar shops) would be spies sent from competitors to take pictures or video of your products, prices, displays, etc. without you knowing. It is assumed that most corporate chains will disallow the use of Google Glass while on their property for those reasons.
5) Brooklyn Fashion Designer's Big Mistake: Entrepreneur and women's fashion designer Liz Seklir has recently found her brand, LYS, ripped off by Kmart. Her designs which feature "natural, and often organic, textiles" made in New York City with few dyes and cost upwards of $100 per piece. On the other-hand, Kmart's "LYS" brand sells cheap, heavily dyed polyester clothes that are produced in China. Since she failed to ever trademark her company's name, the brand's future is up in the air. (via Eco-Chick)
How this applies to you: Liz's story is a cautionary tale for all new entrepreneurs and small business owners. While the price of a trademark may seem like an unjustifiable expense to be paying when starting up a company, the pain of not acquiring one (especially after years of hard work and dedication; as in Liz's case) can be exponentially more damaging.
###