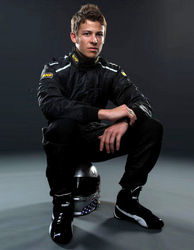 Marco's fans are seeking out product offerings that are cutting edge
Kansas City, KS (PRWEB) December 11, 2008
Clayman Promotional Group announced today that it will be the exclusive distributor of branded merchandise on Marco Andretti's website. Just in time for the holidays, Indy racing fans can visit the online store at http://www.marcoandretti.com.
The site will feature the latest designs of men's and women's apparel as well as Marco Andretti branded articles such as hats, Music related accessories, drink ware, backpacks and Sharpie® pens with Marco's signature and logo. The website is also the exclusive destination for fans looking to purchase authentic Marco Andretti race-worn fire suits and race helmets.
"Marco's fans are seeking out product offerings that are cutting edge," said Gary Tribolet, National Account Executive for Clayman Promotional Group. "Our global resources and creativity allow us to deliver the latest in merchandise with appealing designs. Marco Andretti's personal race-worn items give fans a chance to own an authentic piece of racing history."
"Clayman Promotional Group is the ideal partner because it provides my fans a place to buy quality products that are cool and different." said Marco Andretti, star Indy Car Driver.
As one of North America's leading promotional and fulfillment companies, Clayman Promotional Group will draw upon 40-plus years of experience to keep the selection interesting, in-stock, and into the customer's hands. Under the terms of the agreement, Clayman Promotional Group obtains the rights to market, promote, distribute and sell Marco Andretti-branded merchandise and authentic race-worn equipment on http://www.marcoandretti.com. The agreement demonstrates Marco Andretti's desire to offer fans the finest quality and selection of products and his confidence in Clayman Promotional Group to provide excellent customer service.
Ben Clayman, President of Clayman Promotional Group adds "As a family business ourselves, we are thrilled to be associated with one of the great family names in motorsports."
Visit http://www.marcoandretti.com to view the online store.
About Marco Andretti:
The son of three-time IndyCar Series championship-winning team owner and former CART champion Michael Andretti and grandson of racing legend Mario Andretti. Marco has continued the Andretti family winning tradition. In his race car driving career, became the youngest winner of a major open-wheel racing event in history when he registered his first IndyCar Series victory at Infineon Raceway in 2006 (19 yrs., 5 mo., 14 days), earned 2006 IndyCar Series Bombardier Rookie of the Year award, as well as being named rookie of the year at the 90th running of the Indianapolis 500, placed second at the 2006 running of the Indianapolis 500, was named the 2007 Athlete of the Year (for work in the 2006 season) by the National Italian American Sports Hall of Fame and finished 3rd in the 92nd running of the Indianapolis 500 in 2008.
About Clayman Promotional Group:
Since 1968, Clayman Promotional Group has helped clients spread their messages with customized promotional products. Ranked among the top 5% of its industry, Clayman Promotional Group serves clients from offices throughout the U.S. with preferred pricing, combined with excellent client service, creativity, and the resources to find virtually anything. The Company can logo a single item or build and operate an entire global company store. In 2008, Clayman Promotional Group moved its headquarters to its modern, efficient facility at 3200 Merriam Lane, Kansas City, KS. 66106 For more information, visit http://www.claymanpromo.com
Contacts:
Gary Tribolet
Clayman Promotional Group
602-505-4279
###