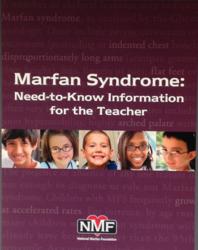 This resource will make the lives of children and parents much easier as they face the daunting dual task of educating the educators and advocating for the rights of their children.
Port Washington, NY (PRWEB) March 28, 2013
Now available from the National Marfan Foundation (NMF) is a publication designed specifically for teachers, Marfan Syndrome: Need-To-Know Information for the Teacher. It was developed with a grant provided by the American Legion Child Welfare Foundation.
This resource will provide teachers with the information and tools they need to:

Know the basics of Marfan syndrome and its impact on a child.
Provide necessary educational and classroom accommodations to ensure the best learning environment for students with Marfan syndrome.
Create a supportive environment for students with Marfan syndrome and related disorders.
Develop lesson plans to incorporate an understanding of Marfan syndrome and/or genetic diversity in the classroom.
In addition, educational and activity guidelines are included to provide teachers with the tools to customize a plan for any student with Marfan syndrome. Suggested physical activities and activity modifications for physical education teachers are also featured.
"If a child has a chronic illness like Marfan syndrome, it is so important for that child's teacher(s) to understand the illness, ensure the child receives appropriate educational accommodations, and help other children in the class to understand the illness and accept the affected child," said Jennifer Buffone, LCSW, Director of Support Services, NMF. "This resource is valuable because it provides teachers with the necessary information to do all of this for children with Marfan syndrome in one convenient resource."
Marfan syndrome affects an estimated 200,000 men, women and children in the United States regardless of sex, race or ethnicity. It affects the heart, eyes, lungs, bones and other parts of the body and is potentially life-threatening. Marfan syndrome does not affect intelligence.
Living with a serious medical condition is not easy for anyone, but dealing with it during childhood can be particularly challenging. As demonstrated by the thousands of inquiries received by the Foundation, parents of children with Marfan syndrome are concerned that teachers are not adequately equipped to deal with their child's special needs.
"This resource will make the lives of children and parents much easier as they face the daunting dual task of educating the educators and advocating for the rights of their children," said Amy Speck, of Knoxville, MD, the mother of Daniel, 13, who has Marfan syndrome.
The teacher plays a critical role for the affected student as he or she navigates through the typical activities of childhood that can be profoundly affected by the disorder, with school-based activities such as recess, the pressures of social relationships, and the rigors of classroom participation made more difficult and sometimes overwhelming.
Marfan Syndrome: Need-To-Know Information for the Teacher can be downloaded for free at http://www.marfan.org/cms/uploaded_files/8XJIUG81F3/89/docs/need2knowteachersfinalweblowres.pdf. For a free CD-ROM, please email support(at)marfan(dot)org.
Marfan Syndrome
Approximately 200,000 people in the U.S. have Marfan syndrome or a related connective tissue disorder. Experts say that about half of those affected do not know they have the potentially life-threatening condition and, without a diagnosis and treatment, are at risk of a sudden early death.
Marfan syndrome is a connective tissue disorder that affects the heart, blood vessels, eyes, bones, joints and lungs. It is often, but not always, characterized by a tall stature and disproportionately long legs and arms. Other skeletal manifestations are curvature of the spine, a protruding or indented chest and loose joints. The most serious problem associated with Marfan syndrome is its effect on the aorta, the main artery carrying blood away from the heart.
The aorta is prone to progressive enlargement, which can lead to tears in the aortic wall that require surgery. If aortic enlargement and tears are left undetected, the aorta may rupture, leading to sudden death.
The life expectancy for people with Marfan syndrome who are diagnosed and treated is now in the 70's due to advances in cardiovascular surgery, improvements in medical therapy and enhance awareness and diagnosis. Without a proper diagnosis and medical management, patients with Marfan syndrome are at risk for aortic dissection and sudden death.
The National Marfan Foundation
The National Marfan Foundation is a non-profit voluntary health organization dedicated to saving lives and improving the quality of life of individuals and families affected by Marfan syndrome and related connective disorders by:
Educating affected individuals, family members and the health care community.
Advocating for and funding clinical and molecular research into the early detection and treatment of these conditions.
Providing a network of local and special-interest support groups to help affected people and their families share experiences.
For more information on Marfan syndrome, contact the NMF at 800-8-MARFAN or log on to http://www.marfan.org.