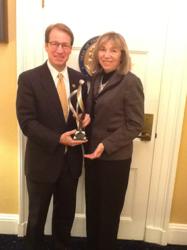 I'm proud to accept this award from AMRPA and Marianjoy. It is vital that rehabilitation hospitals have what they need to ensure patients get their lives back after often times catastrophic illnesses. - Peter Roskam (R, Ill)
Wheaton, IL (PRWEB) April 24, 2013
The American Medical Rehabilitation Providers Association (AMRPA) awarded Congressman Peter Roskam (R, Ill) their Chairman's Award for his ongoing support and advocacy for the protection of this important component of the overall continuum of care for patients. The award was presented as part of the association's annual Spring Executive Forum held in Washington, D.C. on March 19-20, 2013.
Medical rehabilitation improves patient outcomes and reduces overall health care cost by maximizing the health of patients, preventing subsequent medical complications which may lead to further hospitalization, and restoring independence by allowing patients to return to their homes and families. The cost for rehabilitation services represents a small portion of overall Medicare expenditures, but over the last several years, this sector of care has been a target for aggressive regulatory rules and reduced reimbursement.
Congressman Roskam has championed this cause for the industry by highlighting the important role rehabilitation providers such as Marianjoy Rehabilitation Hospital in Wheaton, Illinois (located within the Congressman's home district) play in helping patients regain function following an illness, injury, or accident. Upon receiving the award Congressman Roskam stated, "I'm proud to accept this award from AMRPA and Marianjoy. It is vital that rehabilitation hospitals have what they need to ensure patients get their lives back after often times catastrophic illnesses." Upon presenting the award to the congressman, Marianjoy Rehabilitation Hospital President and CEO, Kathleen Yosko, further noted, "Our patients, hospital, and industry have a true friend in Congressman Roskam. He understands the vital role we play and has been a long-time supporter of the work we do."
About AMRPA
AMRPA is the nation's only trade organization dedicated solely to the interests of Inpatient Rehabilitation Hospitals and Units (IRH/U), outpatient rehabilitation centers and other medical rehabilitation providers. AMRPA's focus is on collective advocacy - working together to advance the field of medical rehabilitation and support the medical rehabilitation needs of persons with disabilities.
About Marianjoy Rehabilitation Hospital
Marianjoy Rehabilitation Hospital is a nonprofit teaching hospital in Wheaton, Illinois, dedicated to the delivery of physical medicine and rehabilitation programs including stroke, neuromuscular, orthopedic, brain injury, spinal cord injury, and pediatrics. Marianjoy's state-of-the-art, 128 private room replacement hospital is designed to provide rehabilitative care in a naturally holistic setting. Founded in 1972, Marianjoy Rehabilitation Hospital maintains an extensive network of inpatient, subacute, and outpatient sites and physician clinics throughout the Chicago area. Marianjoy is a member of Wheaton Franciscan Healthcare. To learn more, visit http://www.marianjoy.org.