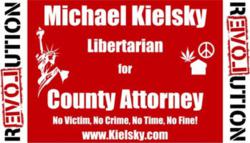 Libertarian Candidate, Michael Kielsky Experiences Increase in Supporters, Volunteers, and Contributions as County Citizens Seek Liberty Focused Alternative
Scottsdale, AZ (PRWEB) October 12, 2012
Scottsdale Attorney Michael Kielsky's campaign for County Attorney is gaining momentum in Maricopa County. The campaign reports a significant increase in the number of supporters at campaign events, an expansion of the volunteer base, and a 290% increase in contributions in the past two weeks.
Bright red "Michael Kielsky for County Attorney" signs can be seen at major intersections in the Phoenix metropolitan area and throughout Maricopa County. Volunteers and supporters have created their own signs which are also sprouting throughout Maricopa County, evidence of a true grassroots movement for an alternative County Attorney candidate focused on liberty, justice, public safety, limited government, and reducing wasteful practices.
Campaign volunteers are calling voters to inform them about the Michael Kielsky campaign, and report positive responses, as well as offers of assistance and donations.
"I entered this important race because I believe that government must be limited and that its primary function is to protect individual rights, as provided in Arizona's Constitution," commented Mr. Kielsky, a 1984 graduate of Grand Canyon University and a 2001 summa cum laude and first in his class graduate of Thomas Jefferson School of Law. "The County Attorney's primary responsibility is to protect the citizens of Maricopa County from criminals who have harmed its citizens, and to bring them to justice. The County Attorney should waste no resources on prosecuting those who have not harmed anyone. All too often, the government is focused on victimless crimes and the senseless prosecution of peaceful people, rather than on its primary – and ideally its only – priority: safeguarding the life, liberty, and property of individuals. I promise to change this as Maricopa County Attorney."
"I will prioritize the prosecution of the violent, the aggressive, and those who refuse to respect the rights of others," continued Mr. Kielsky. "Cases involving murder, rape, assault, burglary, robbery, and theft must take precedence over most other crimes. Victim restitution and justice must be the principal goals to pursue in such prosecutions."
Both candidates for County Attorney have agreed to a candidate forum or debate, with the event to be announced shortly. There is no Democratic candidate in this race.
Interested citizens are urged to contact Michael Kielsky for Maricopa County Attorney at 480.626.5415 for more information, or by email at Elect12(at)Kielsky(dot)com. Information on Mr. Kielsky and the campaign can be found at http://FreeMaricopa.com or http://Kielsky.com.
# # #
Michael Kielsky for Maricopa County Attorney
5635 N. Scottsdale Rd., #170
Scottsdale, AZ 85250
Tel.: +1.480.626.5415
FAX: +1.480.626.5543
http://Kielsky.com