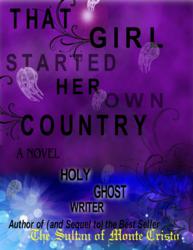 US Government smokescreens hemp for its own monetary purpose.
(PRWEB) September 08, 2012
In efforts to dismantle the United States' marijuana facade on why the feds will not legalize hemp, sites such as NatureNews, Hemp, Norml, and Cannibas News, to name a few, are dedicated to educating the public about the benefits of hemp, while keeping their pulse on hemp worldwide. Yesterday, Hemp.com highlighted the explosive sequel to the first novel ever written to mention the world's favorite herb. According to Hemp.com, the novel, That Girl Started Her Own Country, written by the Holy Ghost Writer contains a cameo appearance by the former KGB spy and ex-wife of the 'King of Pot' with a mention of him via his royal title.
These samples from the HGW's first sequel to the Count of Monte Cristo, The Sultan of Monte Cristo, give an idea as to the play on hemp.
"Experimenting with the various properties of hemp, Mercedes was the first to produce soap, milk and cheese made of hemp. She also noticed the skin lotion she tinctured gave off a lovely fragrance. 'Why not make a business out of this?' Starting her life over, Mercedes once again unwed began to feel youthful. Life seemed vibrant. Spinning hemp brought back thoughts and feelings of the days of her youth when she was singularly in love with Edmond Dantes. The eerie missive rekindled that fire that was smoldering, nearly extinguished, like an old dream that could hardly be recalled coming back to life. Mercedes noticed her reflection in the mirror as she walked back to her spindle. Was she imaging a bright twinkle in her eyes? Did the hemp oil tincture she concocted really make her skin look smooth and supple?"
The female side of industrial hemp (marijuana) actually plays a more aggressive role (as do the heroines of both novels) as can be seen in the following excerpt:
"My love", she says, making her entrance, lighting up her hookah. "Will you partake with me?"
Edmond's eyes lit up with delight seeing what appeared to be a real genie dancing before him. To the sound of metal clicking, he answered, "I never partake."
"Not even for me?" Haydee asked demurely.
Before he could say 'No', she took a hit, inhaling the smoke, then pressed her mouth to his and forced the smoke down his lungs.
"Don't exhale", she said, "That is an order." He held his breath until he was dizzy, then intoxicated by the thrill more than the wine he slowly realized it was not just perfume he inhaled but marijuana as he found himself in a state of bliss.
In the newest of the sequels bringing its readers into the 21st Century, we read, in THAT GIRL STARTED HER OWN COUNTRY:
Zaydee chuckled to herself knowing her ex-boyfriend modeled those novels on her real-life story. "Listen up ladies. We have a newbie on deck, Jane Doe. Jane say hello to Wheelchair Sally, Jailhouse lawyer, and Maria, hacker par excellence."
"Does that name mean you have amnesia or that you want to remain anonymous? Don't answer that, let's go to the yard and have a smoke," says Maria. On the way to the yard, Jane Doe whispers to Maria, "I quit smoking."
"I've got Mary Jane too, if you want a toke." She considered declining the offer, but after a hit of MJ, Jane Doe says to Maria, "I know your handle at Hackers Nation." Maria gave Jane a puzzled look then coughed as she released the aromatic smoke from her lungs.
According to Hemp, Inc., formerly Marijuana Inc., it's illegal to grow hemp because it is considered marijuana by the US Drug Enforcement Agency. Bruce Perlowin, advocate of hemp legalization, formerly donned, 'King of Pot', and who is frequently featured on cable networks, addresses the issue on his company's website, hemp.com, saying:
"Hemp is not marijuana. It is in the same family, but it is not Marijuana. The THC content (the active drug in Marijuana) of hemp is less than 1% while marijuana plants typically have 10-30% THC. The content in hemp makes it useless as a drug. You cannot hide marijuana plants in a hemp field as the DEA and law enforcement officials would have you believe. The hemp will pollinate the marijuana and lower the THC content, rendering it useless as a drug."
He goes on to say, "The Federal Government must understand and concur that hemp is NOT a drug and cannot be used as a drug."
His website seems to track every political stance on the issue of hemp. It also tries to inform Americans of facts and the benefit of hemp while many believe the US Government smokescreens it for its own monetary purpose.
According to Perlowin, "Hemp is a sustainable resource. It requires no pesticides or herbicides that lead to poisoning our waters and soil and it feeds nutrients back to the earth so farmers can grow other crops on their land and reap higher yields." The site also confirms that the fiber material is one of the strongest naturally occurring materials known to man. So much that, "it is currently being used in the automobile industry to create the body for cars. BMW and Mercedes are using hemp plastics in their high-end vehicles." Also, "the former Mayor of Asheville, has spent less than $100 a month on energy bills over the 2010 summer for a 3400 sq ft house" due to a home made from hemp.
So with the advent the Holy Ghost Writer's popular novels dispelling the myth of detrimental effects of hemp, why is it is illegal for US farmers to grow this plant if it creates thousands of useful products? Sort of makes you think twice if our government is for or against our economic well-being. Nonetheless, the Holy Ghost Writer's Sultan of Monte Cristo and That Girl Started Her Own Country portraying hemp as a normal way of abundantly living, millions of fans are realizing the importance of hemp to their own personal lives and how to economically sustain it.
Interestingly enough, hemp.com, the apparently leader in the hemp revolution, revealed, "during the years 1916-1937, William Randolph Hearst created a yellow journalism campaign to associate hemp with marijuana. Even though smoking hemp, like most fibers, will just make you sick, Hearst, along with his friend Pierre DuPont, succeeded in outlawing hemp in America. They actually robbed the world of an environmental cash crop. Why? Because instead of using hemp for paper, clothing, fuel, oils, resins, medicines, and many other uses, we now use trees and synthetic petrochemicals. Hearst owned huge forests and interests in lumber mills. DuPont made synthetic fuels and fibers (nylon, rayon, plastics) from petroleum." Go figure.
The last chance to download a free copy of "That Girl Started Her Own Country" from Amazon.com begins Saturday morning at 12:00 AM and ends Sunday night at 11:59 PM Pacific Time September 8th and 9th, but those with an Amazon Prime account will have until the end of November. Otherwise, it will go back to its usual price of $9.99 on Amazon.
According to 5 star reviews of That Girl Started Her Own Country, it looks like the fight to legalize hemp will undoubtedly gain momentum. See some of the latest reviews..
Engaging and gripping-- it will blow your mind!, September 8, 2012- Making his debut with the delightful sequel to a timeless novel, the Holy Ghost Writer won the hearts of several readers with his complicated, mysterious and thrilling novel "The Sultan of Monte Cristo (First sequel to the Count of Monte Cristo)."Still riding the waves of his recent success, the elusive author has once again managed to steal the limelight with his latest read "That Girl Started Her Own Country (Sixth Sequel to The Count of Monte Cristo). Engaging and gripping in character, the novel stretches all the boundaries of ingenuity and pulls the most reluctant reader to its exciting plot and inspiring action.
Revolving around the lives of 'Ritual Serial Killer' turned International Playgirl Zaydee and her one true love Steven Larson, a noble journalist, the novel incorporates all the classic elements of mystery, thrill and adventure, blending together to give us an exciting novel spun around the life of the protagonist Zaydee. In an effort to take down a most powerful secret organization Zaydee 'anonymously' gives Larson secrets about the truth of some very influential beings; secrets that will be the greatest exposé of his career, all the while determined to protect the man she loves. With a deadly network of hactivists, high tech devices and nearly endless supplies of m oney, Zaydee is determined to take down this secret syndicate and rise as the head of a new nation, a nation where women holds the power of authority.
Laced with heavy tones of feminist ideas, the novel brings to light well rounded characters with expertly balanced flaws and emotional depths. Evenly paced, engaging, and with a good premise, the novel takes its readers through a thrilling ride, intimately drawing all its readers to its protagonist's psyche. Along with the mysterious plot also lies the underlying suspense of the writer's true identity and the speculation whether this is the purported dissimilar novel by the Holy Ghost Writer, to Stieg Larsson's Millennium- a Trilogy, leaving Larsson fans wondering if (and hoping) he actually faked his own death. The truth however remains to be seen.
Well-written and shockingly good novel!, September 7, 2012 - Alright, let's start this one off with an obvious statement, this book WILL be compared to the very popular 'Girl with the Dragon Tattoo' series. This book also SHOULD be compared to this series. Similar cover and similarities in the story beg for a comparison. So, that is exactly what I did as I read this novel. I compared it with one of my favorite book series of all time. And do you know what? It passed the test. It will fill the void of the fans of the trilogy that feel empty without a new novel to read.
I do not like a book that starts off slow and utterly descriptive, I like to jump right into the action. I need something to pull me in. This book did that and more. It is quite amazing, actually, the level of detail put into the Prologue without weighing it down. By that I simply mean that I understood the set-up completely without feeling like I knew TOO much information about the book ahead. The main character, Zaydee, is a strong, badass female persona. Female being the key word here. The femininity stays with her. She is not a 'woman in a man's world' she is a 'woman in her own world'.
And that is the goal of our main character in "That Girl Started Her Own Country". Starting out as a life-saving mission to rescue the man she loves, it later becomes a furious ass-kicking adrenaline ride. Filled with a creative cat and mouse like game, where she leaves clues and bits of story for the reporter she loves while simultaneously holding back the evil and nefarious men after him. In the end, Zaydee, ever the thinker and fast on her feet, comes up with a plan. The sort of plan that has democracies everywhere quivering in their boots.
It does not take long before, as the title suggest, Zaydee completely takes over, founding a new country.
HER country.
If you don't want to read it yet, I will make sure that Zaydee comes after you. And, trust me, no one wants that.
Creative and Original, September 7, 2012 - That Girl Started Her Own Country is about a hot chick, Zaydee who is on a mission to save her true love. This reads as a fast paced mystery, thriller, suspense with a little love thrown into the mix. The story flows great and I had to read it straight through. I couldn't put it down. After really getting into it, past the storyline, the grammar and editing is great. Everything made sense. It was an easy, fun, edge of my seat read. I would recommend this book to everyone who likes a little bit of everything in their stories. It was original and I can't wait to read more from this author, which he has another book available that I plan to read next. So, I can't wait to read more! I hope this helped in your decision to buy this great book. You won't be disappointed.
A Serious Page-Turner; Highly Recommended!, September 7, 2012 - I was not very happy as I finished this book. So intimately drawn into Zaydee's psyche, I had become her invisible companion and emotional confidante, and I wanted the story to go on and on and on. What a delicious feeling to leave a story with the certainty that its world continues beyond the final page! Partly inspired by an outrageously true story of a 30-year common-law wife unable to access her partner's assets after death due to Swedish law, this novel efficiently builds characters and settings of such depth and expertly-balanced flaws that readers can't help being affected by their experiences. Our anticipation grows as we watch Zaydee pour thoughtfully over those files; we stare in awe watching the gears turn as the words she reads instigate new insights and unexpected connections. We feel Larson's initial excitement and eventual restlessness as he tries to adjust to the solitude of the panic room. Twists abound as you discover that nothing is what it seems: protector versus predator, innocent versus cold-blooded, safe versus treacherous.
Mysterious author the Holy Ghost Writer has managed to weave a story of mystery and interspersed with such insights that you can't help but ponder long after the pages end. You know it'll be an interesting an informed read when the Bildebergers are mentioned in the introductory pages.
Fast-paced and smartly designed in a ever-heightening spattering of obstacles and clues, this one comes very highly recommended!