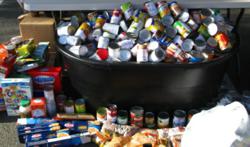 As the economy slowed, we learned our community's local food bank was suffering from dwindling donations.
RANCHO CUCAMONGA, California (PRWEB) April 11, 2013
The Inland Empire Marine Aquarium Society (IEMAS) is hosting their third annual "Frags 4 Food" event this Saturday, April 13 from 11 am to 6 pm at the Tropical Reef Fish store located at 11940 Foothill Blvd. Ste. 108 in Rancho Cucamonga.
The Southern California aquarium club said there are no donations too big or small—but anyone who donates five or more cans of food will receive a free coral frag. A "frag" is a small piece or colony of coral, often mounted on a small artificial plug, which aquarium owners can place inside their saltwater tank to grow and multiply. The coral frags provided to donors this year are Cherry Charm Zoanthids, which have a striking golden center surrounded by a pretty pink skirt.
"A few years ago our club decided we wanted to give back to the community," said IEMAS President Cylix Shane. "Originally we decided on a beach cleanup day, but that idea was short-lived because the beach is a two hour drive for most of our members. One thing we all have in common is we enjoy sharing coral frags. As the economy slowed, we learned our community's local food bank was suffering from dwindling donations. We put the two ideas together and created 'Frags 4 Food,' which has been a tremendous success ever since."
Last year IEMAS ended up with 1,120 cans of food plus many generous cash donations. Proceeds from donations are given to the 501(c)(3) non-profit GAP Food Bank. The GAP Food Bank started in the early 90s to help the working poor, single mothers, recovering addicts, seniors on a fixed income and the under-privileged who struggle to make ends meet. GAP assists families by providing basic food items. By providing food, the families are better able to apply their limited financial resources to housing expenses and other necessities.
GAP began distributing food out of a garage to families in the community. Twenty years later, GAP has relocated to a 4,500 square foot warehouse in Rancho Cucamonga, equipped with a truck for large donation pickups, a forklift and walk-in freezer and refrigerator.
When Ben Ros, Director of Operations for aquarium supply store MarineDepot.com, heard about the event, he immediately issued a challenge to his staff.
"I want MarineDepot.com to donate more food than anyone else," Ros told his team. "In addition to bragging rights, the department that donates the most food will be rewarded with a pizza luncheon from our COO."
MarineDepot.com will be joining over a dozen aquarium supply stores, aquarium makers, manufacturers, publications and clubs in support of Frags 4 Food. Below is a list of some of the participating organizations and donors for this year's event.
– MarineDepot.com
– Seachem
– Aquatic Life
– CAD Lights
– Marineland
– Ushio
– Blue Life
– Hamilton Lighting
– Fantastic Frags
– Coral Magazine
– Advanced Acrylics
– Tropical Reef Fish Store
– Southern California Reef Keepers
"A grand prize will be awarded to the person or group that donates the most cans," said Shane. "This year it will be the winner's choice: an all-in-one frag tank from Advanced Acrylics or an all-in-one nano tank from CAD Lights. For participants who do not want a coral frag, there will also be raffle tickets available that count toward donated aquarium goods and equipment."
If you are interested in participating, GAP Food Bank prefers durable plastic, paper or aluminum packaging over glass bottles and jars. Non-perishable, non-refrigerated foods with pull-top cans are ideal because they can be opened by people who may not have access to a can opener. Smaller sized items are also useful because they are easier to store and distribute. The following items are highly recommended:
– Breads and cereals
– Boxes of crackers
– Boxes of spaghetti or pasta
– Boxes or rice
– Breakfast cereal bars
– Fruits and vegetables
– Canned fruits and vegetables
– Fruit cups
– Canned soups
– Canned spaghetti/tomato sauce
– Canned stew
– Canned tuna or chicken
– Canned chili
– Canned pasta dishes
– Peanut butter
– Vienna sausage
– Bags of dried beans
"Clubs like IEMAS are enormously beneficial to the hobby," Ros said. "Not only do they share their knowledge and experience to help others become responsible aquarium owners, but the goodwill, teamwork and organization it takes to run a successful club often manifests in activism. Seeing IEMAS mobilize its members to effect change has motivated and inspired us to do the same."
About MarineDepot.com
MarineDepot.com is the world's #1 supplier of marine and reef aquarium supplies. The company was founded in 1997 by self-professed "fish geek" Ken Wong after he became frustrated by the lack of selection and support provided by many local fish stores. Today, MarineDepot.com offers over 7,000 popular and hard-to-find products with free technical support provided by a staff of aquarium experts known as the Reef Squad. MarineDepot.com employs 45 full- and part-time employees in Garden Grove, CA. The company was included in the Inc. 500|5000 List of Fastest Growing Businesses in 2011 and is a 3-time Top 500 Internet Retailer and BizRate Circle of Excellence winner.
About Inland Empire Marine Aquarium Society
The Inland Empire Marine Aquarium Society is located in Southern California and was formed to provide reefkeeping hobbyists in the Inland Empire with a center point to share their knowledge and experience. They have approximately 25 regular members who own fish tanks ranging in size from 10 to over 500 gallons. IEMAS welcomes guests and newcomers at their monthly meetings. They host a number of events each year that help support the expansion of the reefkeeping hobby including frag swaps and philanthropies.