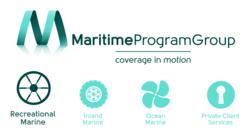 Chris Pesce, MPG's President, stated, "The addition of these three underwriting professionals reinforces MPGs commitment to growth of our programs in the western territories while expanding our capabilities into the wholesale brokerage market nationall
Westbrook, CT and Gladstone, OR (PRWEB) November 27, 2012
Maritime Program Group announces the creation of a new Brokerage Division and expansion of their western facilities with the addition of three new professionals and an office in Gladstone, OR. Ron Hayes, Director of Brokerage and Lina Jayme, VP of Brokerage are leading the expansion of wholesale marine business for MPG which include placements for marine insurance products, such as passenger vessels, fishing vessels, tugs and barges, builders risk, cargo, docks, shipyards, USL&H and other commercial marine insurance interest. Bob Langenhan, Senior Marine Underwriter will be based in San Francisco underwriting marine liabilities including MGLs, Excess P&I, Bumbershoots Liabilities and other brokerage opportunities for MPG.
"The addition of these three talented underwriting professionals reinforces MPGs commitment to growth of our programs in the western territories while drastically expanding our capabilities into the wholesale brokerage market nationally." says Chris Pesce, President of MPG.
About the team: Ron Hayes and Lina Jayme founded two specialty marine agencies, Pacific Marine & Energy Resources and Pacific Underwriting Professionals in 2002. Prior to that, both enjoyed insurance careers that span over thirty years of experience in brokerage, underwriting and sales. Bob Langenhan was most recently a Senior Marine Broker for Pacific Underwriting Professionals and enjoyed a long tenure of underwriting positions at Ace, CNA, Liberty and Pacific Marine Mutual over the past 30 + years.
Maritime Program Group (MPG) is a Program Administrator providing a full range of marine insurance products and underwriting services to its broker network throughout the Unites States. MPG specializes in protecting all types of marine-related assets across every category of marine risks Recreational Marine Insurance, Inland Marine Insurance, and Ocean Marine Insurance. Through its Private Client Services the company serves the individual insurance needs of high net worth clients. MPGs nearly 60 employees are strategically located in offices nationwide, with primary offices in Westbrook, CT and Manchester, NH. For more information about Maritime Program Group visit http://www.maritimepg.com.