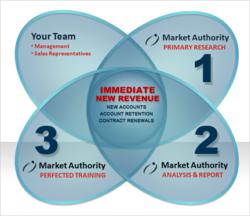 "This is the most effective training I have ever attended" said Jason Parnwell, Marketing Executive, Yell Group.
(PRWEB) November 29, 2011
Market Authority, Inc (MA), the world leader on research in how people find a local business, expanded its research across the Atlantic and found similar myths about traditional media. "The misconception that print yellow pages is dead is prevalent all over the industrial world", says Steve Sitton, CEO MA. "While more and more people are using the Internet either from a terminal or a SmartPhone to find SMEs (small to medium size businesses), print yellow pages still remains the dominant way consumers found a business in 2011 in the U.S., the U.K. and Australia."
MA has recently added the United Kingdom and Australia to its list of countries studied and found that Internet users believe print usage has fallen precipitously. However, overall usage remains high, especially among key demographics that print advertisers' covet: older household owners with higher income levels.
This information, combined with MA's one-of-a-kind sales training, delivered a powerful message to several hundred employees of Yell Group selling in the London area. "This is the most effective training I have ever attended" said Jason Parnwell, Marketing Executive, Yell Group.
MA has also conducted extensive research into mobile marketing and offers cutting edge sales training in this industry as well.
Market Authority provides the most effective sales support and training in the print yellow pages, mobile, and online industries. With over 230,000 interviews conducted, MA is the world's authority on how individuals look for and find a local business.
To contact Market Authority to study your market or train your sales force, please contact Kari Simpson or Megan Hartwig, DMI at 816-537-7950.
ABOUT THE STUDY:
Market Authority, Inc. has conducted interviews with over 230,000 consumers across the world in the last 20 months to study their technology and media habits when looking for a local business. This vast wealth of current consumer information gathered from over 275 cities makes Market Authority, Inc. the leading authority on the reality of usage in print and digital platforms. The research includes analysis of new media (search engines, online Yellow Pages, group buying sites, mobile browsing, SmartPhone ownership, mobile marketing, etc.) and traditional media (print Yellow Pages, newspapers, etc.). The results of the nationwide study continue to evolve and change as Market Authority, Inc. surveys consumers in urban, suburban and rural demographics across the globe.
###