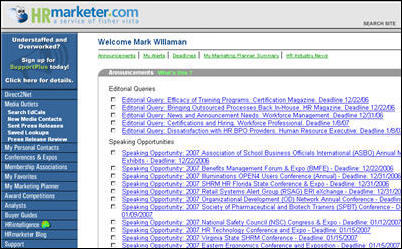 There are other broad-based marketing and media relations tools out there, but none so comprehensively focused on the human resource and employee benefit marketplace as HRmarketer.com
Capitola, CA (PRWEB) December 20, 2006
HRmarketer.com, the no. 1 marketing and media visibility service in the human resource industry, has reported another record year for sales and membership growth in 2006. The company also reported record sales growth for its recently formed Marketing Services Group, which offers marketing PR and other support to human resource suppliers such as SEO and social media work, media relations, research / white paper development and other lead-generating activities.
Since its debut in 2002, HRmarketer.com has realized over 54 consecutive months of sales growth. More than 450 human resource and employee benefit service providers have joined HRmarketer.com, making it the largest and most popular marketing and public relations service in the human resource industry.
"There are other broad-based marketing and media relations tools out there, but none so comprehensively focused on the human resource and employee benefit marketplace as HRmarketer.com," says Kevin Grossman, chief operating officer for HRmarketer.com. "HR suppliers understand that if they are to grow in this market, they must partner with a firm that knows the market and that offers the tools and resources to reach that market. Year after year, that partner is HRmarketer.com."
The company's recently formed Marketing Service Group also realized record sales growth in 2006. Nearly 20 HR and employee benefit suppliers now contract with HRmarketer's Marketing Service Group for their media relations, lead generation, SEO and other marketing outreach initiatives.
Elrond Lawrence, who leads HRmarketer's Marketing Services Group, notes that HRmarketer is uniquely equipped to deliver such services to HR and employee benefit suppliers. "Our HRmarketer team not only has decades of successful marketing and media relations experience in the HR industry, but they benefit from having access to HRmarketer.com and the knowledge of how to fully leverage it for our clients to increase their publicity, site traffic, sales leads and search engine rankings. This frees the team to focus on execution and strategy, rather than editorial calendar research, maintaining media lists and other administrative tasks that bog down many PR agencies. This advantage also saves companies a considerable amount of money on their monthly retainer."
HR suppliers interested in trying a unique, cost-effective and highly focused alternative to traditional marketing and PR can contact HRmarketer.com for a free marketing consultation.
About HRmarketer.com
HRmarketer.com is a service of Fisher Vista LLC, a marketing and information services firm focusing exclusively on the human capital industry. Through its Marketing PR services, the company services hundreds of human resource and employee benefit service providers, helping them generate publicity, website traffic, sales leads and improved SEO.
This press release was distributed through eMediawire by Human Resources Marketer (HR Marketer: http://www.HRmarketer.com) on behalf of the company listed above.
###