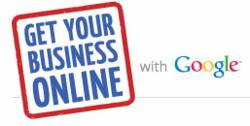 I whole-heartedly believe using Google's program ... is imperative to any small business that's not online. There's everything to gain, and nothing to lose
Melbourne, Victoria (PRWEB) September 19, 2012
It wasn't so long ago when the web was used for a bit of past-time fun, or as an impressive, super-high-tech way to communicate. But with rapid advances in technology over the past decade, the internet has become the main source of information for practically all Americans, be it searching for a product or service, or to find an opinion thereof.
With that said, an amazing 58% of small businesses in America don't have a website; meaning, in today's constantly logged-on society, those businesses are virtually invisible to their potential customers.
Google's "America Get Your Business Online" program, launched last year, put the emphasis on how important it is for small businesses to get online in order to survive and thrive.
"Small businesses are vital to any economy," says David Jenyns of Melbourne Video Production, a company who specializes in marketing small businesses using web video and SEO techniques, "and Google's goal seems to be the same as mine: helping businesses flourish by using the cheapest, easiest and most effective marketing tools."
American small businesses make up more than half of the US Gross Domestic Product and provide an impressive two-thirds of new jobs to the economy. But only those tapped in online are expected to grow 40% faster than their counterparts.
"I've seen a lot of companies struggling because they simply can't be found," remarks David, "traditional marketing has its value, but is nowhere near as effectual as small business marketing online. Google's program is like throwing out a lifeline."
David continues to say, "Unless you're part of the generation who've never known life without the internet, there's a lot of small businesses who still think creating a website, and maintaining it, is expensive and time consuming."
However, Google's "America Get Your Business Online" program was designed to quash that very thought. Teaming up with Intuit, ASBDC, and Score, Google has opened the door for small businesses to get a customized domain name, hosting, and easy-to-build website – all free, for one year.
Further easing the minds of cash-flow conscious proprietors, small businesses using Google's program will only pay a mere $2 per month for their domain and a further $4.99 per month for hosting, after their free one-year is up.
"I've been part of this industry pretty much since its inception," David says about small business internet marketing, "and I whole-heartedly believe using Google's program, and then investing $7 a month after the first year, is imperative to any small business that's not online. There's everything to gain, and nothing to lose."
By the end of last month, Google made their final stops in Alaska and Hawaii, bringing their year-long experiment to a close, according to their blog post.
Even though the country-wide events have ceased, the initiative is still open for small businesses wanting to get online. To find out more, visit: http://www.gybo.com/america/index
About Melbourne Video Production
Melbourne Video Production is a division of MelbourneSEOServices.com, a full service search engine optimization (SEO) consultancy, based in Australia, but with a worldwide client base.
Melbourne Video Production has the unique ability to combine their web video expertise with strategic SEO practices from Melbourne SEO.
Director, David Jenyns, has, over several years, built a team of experts who are niche experts to support the business, and who share his ethos for ethical, professional internet marketing and web video.
Visit this website to know how to take your online marketing to the next level.