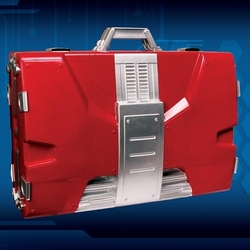 Conyers, GA (PRWEB) November 3, 2010
It was announced today by Museum Replicas that fans and collectors will find hot new collectibles from the Marvel blockbuster film Iron Man 2 at this 2010 holiday season. The Marvel prop licensee will be releasing four new products to their high-end, prop collection line focusing on Stark Industries and the covert government organization S.H.I.E.L.D.
The new products will debut last quarter of 2010 and continue the remarkable popularity of high-end collectibles for discerning Marvel enthusiasts. The four new items are the now iconic Monaco Car Racing Jacket worn by Tony Stark as he's famously attacked by Whiplash, Tony Stark's new personal Arc Reactor which powers the improved Mark VI armor, the Mark V "Suitcase" Armor which will be constructed as a fully functional briefcase, and a replica of Nick Fury's Leather Trench Coat, which he wears throughout the movie, while controlling the brash billionaire.
Stark's racing jacket is of ballistic grade nylon mesh, with padding and faux leather on the sleeves and has the proper genuine leather accents showing his Stark Racing Team affiliation and car number. The briefcase is aircraft grade aluminum, as is the CNC machined Arc Reactor. Exactly like the movie prop, the reactor lights up with brilliant LED's, is removable from the base and is presented with a full metal adjustable stand. Each prop is made with the direct input of Marvel Studios and original movie reference for complete authenticity.
Museum Replicas will develop, manufacture and distribute collectible, limited-edition replicas of full-size and wearable props from the entire Marvel Universe. The new additions are available now for pre-order through their website http://www.museumreplicas.com and can be seen in person at their showroom in Conyers, GA for shipping this winter. Stark Industries is cutting edge and these props from the blockbuster Iron Man 2 movie have been eagerly awaited by their equally cutting edge fans.
About Museum Replicas
Museum Replicas Ltd. along with their partner company, Windlass Steelcrafts are recognized as a worldwide leader in the design, manufacture and marketing of fine collectible products. With headquarters in Conyers, Georgia they sell their products in over 14 countries around the world. Licenses include Marvel Comics, The Terminator, Assassin's Creed I and II, Star Wars, The Tudors, Frank Miller's 300, Wheel of Time, The Phantom, World of Warcraft, Age of Conan, The Lord of the Rings and Harry Potter.
Contact
Museum Replicas Ltd. 1-770-922-7500
Nisha Windlass, Media Relations x56
Robin Chaudhuri, Product Sales & Distribution x17
© 2010 Marvel & ™. All Rights Reserved. http://www.marvel.com
###