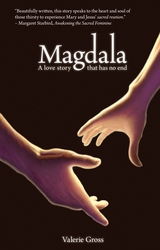 New York, NY (Vocus) January 6, 2010
Recent historical programs on both the Discovery Channel and National Geographic have explored Mary Magdalene's role in early Christianity, based on the emerging plethora of new archeological data.
In her book "Magdala," 7 years in the making, Valerie Gross has constructed a mesmerizing tale of Mary Magdalene by digging even deeper into history, restoring full social, political and spiritual context to the story that continues to fascinate readers of every background.
This carefully researched debut work of historical fiction takes root among the people who worshipped the "wrong" gods in Ancient Israel. The Old Testament of the Bible is chock-full of diatribes against those who sacrificed to Yahweh while they worshipped the 'starry hosts,' who both kept the Sabbath and planted forbidden 'Asherah poles'.
What became of these people?
We learn from Josephus Flavius, 1st century Hebrew historian, that Galilee, where so much of the New Testament occurs, was politically separate from Jerusalem and the province of Judea until 104 BCE, when the Hasmoneans conquered it back, after 600 years of separate existence, and forcibly converted the Galileans to Judaism.
What were the Galileans doing for religion before then? The Bible primarily tells us the religion of the people who could read and write at the time, anywhere from 1-5 % of the population. What was everyone else doing?
The Gospel of Luke, chapter 8, tells us about the women who walked with Jesus, one of whom was the wife of Herod's steward (the equivalent of the governor's chief of staff), women who provided for Jesus and the other men 'out of their own sustenance.'
Who were these women who had both the money and the freedom to be gallivanting around the countryside with or without their husbands and with money falling out of their pockets - and no one raising an eyebrow?
About Valerie Gross: Manhattan native and former Wall Street analyst Valerie Gross embarked upon a quest to learn everything she could about the feminine face of God in Western civilization.
She received her baccalauréat from the Lycée Français de New York and her Masters in Media Studies from the New School, and has held a number of jobs that allowed her to live and write.
PUBLICITY CONTACT: To schedule an interview, contact Sarah Wilson, President, Sarah Wilson Business Communications, (518) 637-4326 sarah(at)swbcommunications(dot)com.
###