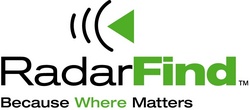 With the RadarFind system, causal relationships between contaminated medical devices and known infected or colonized patients can be more easily determined. With this new tool in our infection control arsenal, we can take additional proactive measures to reduce hospital-acquired infections at our medical center
FREDERICKSBURG, Va. & MORRISVILLE, N.C. (PRWEB) December 4, 2008
The hospital chose the RadarFind system for its flexible deployment, ability to provide precise room-level location, innovative status tags and scalability for asset and patient tracking. Unlike other RTLS solutions, RadarFind is deployed enterprise-wide, rather than in one department such as an emergency room. In addition, RadarFind's low installation costs and its ability to operate without interfering with WiFi or other existing hospital networks were key factors in the decision.
According to a 2008 industry study, clinical engineers performing regular preventive maintenance on medical devices, such as infusion pumps, cannot find between 20 to 25 percent of those devices. Nurses also spend excessive time searching for equipment, taking time away from patient care. RadarFind automates these and other processes to reduce the workload on hospital staff. For patients, health care can be significantly improved. For hospital management, cost and risk are reduced and additional revenue can be generated.
Most RTLS solutions available today, including WiFi tracking only provide information about a device's location and their accuracy can vary. The RadarFind RTLS technology features an asset tag that goes an important step further by alerting staff to the device's status: available, in-use or needs cleaning/sterilization. The status tag also provides accurate equipment utilization information to help hospitals budget for new equipment expenditures. This practice saved another hospital, Wayne Memorial Hospital of Goldsboro, N.C., more than $400,000 less than a year after implementing the RadarFind RTLS.
"The RadarFind system is setting the standard for real time locating in hospitals, with non-disruptive installation, proven return-on-investment, scalability, detailed data and reports and superior customer service," said Andy Holden, director of biomedical services for Mary Washington Hospital. "The RadarFind system will have a significant impact on Mary Washington Hospital's mission to improve the health status of all people within our community. The data gathered by the system will be leveraged in a number of ways to help improve our hospital's services."
Holden is also co-chairman for the Environment of Care Council at Mary Washington and is looking forward to using the RadarFind system to track telemetry devices that wirelessly monitor vital signs. Hospitals lose track of a significant number of these small devices each year, which can translate into lost funds. Mary Washington Hospital will use the RadarFind asset location system to stop those losses.
Healthcare-focused design reflected in compatibility with hospital environment
Based upon synchronous MIMO (multiple input/multiple output) smart-antenna wireless communication between RTLS components in the 900 MHz frequency band, there is no interference with existing WiFi networks or other hospital equipment, and the system requires minimal involvement from a hospital's busy information technology department. Plug-in readers complete the system's seamless integration with existing hospital infrastructure and operations. Real-time location tracking information on mobile medical devices can be viewed via web-enabled software on any computer or PDA connected to the hospital's Intranet.
The status tag also augments a hospital's active infection surveillance and prevention processes, which are under increasing scrutiny as the industry seeks to reduce medical errors in the current "pay for performance" environment. As the system tracks devices, it reports time-stamped location history. This information can be used by a hospital as part of their infection control surveillance system. Equipment that has come into contact with specific patients, especially those who have contracted or are colonized with antibiotic-resistant organisms, can be identified. The data from the status portion of the tag can be also used to monitor whether a device passes through the appropriate decontamination process before it is assigned to another patient.
"With the RadarFind system, causal relationships between contaminated medical devices and known infected or colonized patients can be more easily determined. With this new tool in our infection control arsenal, we can take additional proactive measures to reduce hospital-acquired infections at our medical center," said Sam Miller, support services vice president for Mary Washington Hospital.
About Mary Washington Hospital
Mary Washington Hospital is a 442-bed regional hospital providing the latest in advanced cardiac care, neurosurgery, trauma and other tertiary care while continuing to serve the community's acute care needs. Mary Washington Hospital is located in Fredericksburg, Virginia. For more information please visit http://www.mwh.medicorp.org.
About RadarFind Corporation
RadarFind Corporation, a health care technology company, offers a unique, patented Real Time Location System that uses a platform technology for tracking medical equipment and patients. Specifically designed for hospitals by health care professionals, the RadarFind RTLS system seamlessly integrates with existing hospital infrastructure and operations, while functioning independently of a hospital's critical WiFi network. Headquartered in the greater Raleigh-Durham, N.C. area, RadarFind develops integrated hardware and software solutions for their hospital customers and is the statewide 2008 NCTA 21 Award recipient for most innovative use of technology. For more information please call (919) 228-2100 or visit http://www.radarfind.com.
KEYWORDS: RTLS; real time location system; hospital asset tracking; patient tracking software