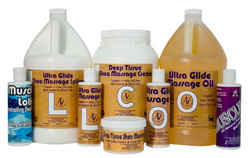 New Freedom, PA (PRWEB) August 17, 2009
Oakworks®, Inc., the premier U.S. manufacturer of spa, massage, and medical equipment, today announced the addition of the Nutro Body Care line to its product offerings. Pursuant to an agreement entered into on May 1, 2009 Nutro Body Care LLC of Lewellen, Nebraska has named Oakworks its exclusive worldwide distributor.
Nutro Body Care is a leading formulator of body care products for the Massage and Spa Professions. Their products are handcrafted with loving care in their facility in western Nebraska. Founder Mary Gentry-Randall formed Nutro Body Care LLC out of a desire to create products which are both nutritional for the skin, and environmentally friendly. Through years of interactive work with other experts, and her own professional background as a Registered Environmental Health Specialist, she has been able to create formulations which benefit professional therapists and their clients.
Nutro Body Care LLC recognizes that skin is the largest organ of our body. Therefore, their formulations are designed to feed and nourish the skin, including the therapist, whose hands are in constant contact with products throughout their career. Gentry says "It is important that our products not only perform for massage, but also serve our bodies. These factors are of highest priority at Nutro Body Care". In addition, Nutro Body Care product ingredients are selected using a three tier approach including environmental renewability; safety for their handcrafters and efficacy as a massage and skin product.
Gentry adds, "Our products always include generous amounts of the "good stuff". This is a significant factor which sets Nutro Body Care apart from the rest of the industry. Where most companies include only 1 to 5 percent of butters and oils, they formulate their products to include up to 44 percent. This is how they achieve glide, with plant oils, not by the use of silicones which are derived by mining."
The Nutro Body Care Line encompasses:

What people are saying about Nutro Body Care:
Ellie Perry with Zenith Supplies in Seattle says, "Nutro Body Care is a company who formulates top notch products that contain superior ingredients. Nutro Body Care has loyal customers who buy only Nutro's lotion; creme and oil! She also says, "Nutro Body Care is great company to work with because they have wonderful people and their products are environmentally friendly."
Annie Baily, a Massage Therapist in Thornton, Colorado says "I love Nutro's products because they don't contain coconut oil that makes skin break out. My clients love the creme because it makes their skin feel good and they don't feel greasy at the end of their session."
Nutro Body Care's mission is to provide high quality, affordable body care products to nourish Mind, Body and Soul! They focus on simplicity and believe that much can be gained by focusing on what really matters...in all areas of life. At Nutro they have applied this concept to body care formulations using ingredients known to provide a wide range of nutritive properties for skin health. In all their products, they work to balance the needs of therapists, their clients' skin, and the environment. This has led to their selection of natural and organic ingredients exclusively, and their avoidance of nut based, palm derived and petrochemical based ingredients. All of their ingredients are listed on each product and the website http://www.nutrobodycare.com provides links for further research.
Since its inception 30 years ago in South Central Pennsylvania, OAKWORKS® has been committed to creating products that promote comfort, relaxation, and healing for individuals receiving therapeutic treatments.
For more information, visit http://www.massagetables.com
Oakworks® is the premier manufacturer of spa, massage, and medical equipment with 30 years of precision manufacturing experience and the best quality control in the industry. Known for design innovation, sophisticated engineering, quick turnaround time, and a unique commitment to U.S. manufacturing and environmental wellness, OAKWORKS® is setting the global standard in the markets it serves. OAKWORKS® is a Plant-a-Tree Partner with Trees for the Future and meets their requirements for a Global Cooling Business. OAKWORKS® is an official Corporate Sponsor of the Comfort that Cares™ campaign in partnership with The National Breast Cancer Foundation®. OAKWORKS® has been assessed and certified as meeting the requirements of the Forest Stewardship Council Standard for Chain of Custody Certification: Certificate SGS-COC-005887. The Mark of Responsible Forestry © 1996 Forest Stewardship Council A.C.
# # #