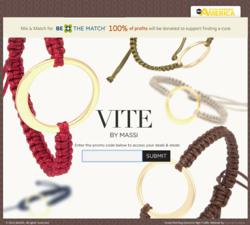 Giving back is a core part of MASSI's guiding principles, and we are honored by this opportunity to collaborate with Be The Match and Good Morning America
Los Angeles, Calif. (PRWEB) March 13, 2013
Luxury brand MASSI is proud to announce the donation of $35,000 to Be The Match®, a national nonprofit organization. The donation comes through from 100% of the sales of MASSI's Vite bracelets sold during the February 28th installment of Good Morning America's "Deals and Steals" segment, hosted by Tory Johnson.
"Giving back is a core part of MASSI's guiding principles, and we are honored by this opportunity to collaborate with Be The Match and Good Morning America," said Derick Tortorella of MASSI. "We designed and crafted our Vite bracelet to be a fashionable symbol of commitment both to raising awareness of prevalent ailments and funding organizations that bring about positive change. We're grateful to Good Morning America and Tory Johnson for driving this wonderful effort."
Be The Match connects blood cancer patients with their donor match for a life-saving bone marrow or umbilical cord blood transplant. The program also provides support to patients and their families and funds critical research so more lives can be saved. Without the support of Be The Match, many patients would otherwise not be able to receive the transplant they desperately need.
"We at Be The Match are grateful for MASSI's generous donation, which helps us provide hope to the thousands of patients battling leukemia, lymphoma and other blood cancers," said Barry Huff, senior vice president, marketing & communications and recruitment for Be The Match. "Generosity like this help us work toward our ultimate goal of providing a cure for every patient in need."
Meaning "life", the MASSI Vite bracelet is a macramé woven nylon band supported with a chic open moon-shaped 14K gold-plated charm. Available in nine bright and colorful hues, the bracelet was sold from February 28 through March 3 in customizable sets of three for $33, a 67% savings for "Deals and Steals" viewers.
Offering a luxury collection of stylish jewelry, handbags, accessories and more, MASSI is committed to using high-quality materials, finishes and genuine leathers in each and every piece. Earlier this year, MASSI appeared on "Deals and Steals" segments with the new Druzy jewelry and Comodo blanket collections.
ABOUT MASSI:
MASSI is a contemporary lifestyle brand inspired by life through the fashion lens. Marrying inspiration and lifestyle to create luxury apparel and accessory products, the MASSI line encompasses quality leathers, tasteful design and impeccable details. For more information, please visit http://www.massi.com
ABOUT BE THE MATCH:
For people with life-threatening blood cancers - like leukemia and lymphoma - or other diseases, a cure exists. Be The Match connects patients with their donor match for a life-saving marrow or umbilical cord blood transplant. People can be someone's cure as a member of the Be The Match Registry®, financial contributor or volunteer. Be The Match provides patients and their families one-on-one support, education, and guidance before, during and after transplant.
Be The Match is operated by the National Marrow Donor Program® (NMDP), a nonprofit organization that matches patients with donors, educates health care professionals and conducts research so more lives can be saved. To learn more about the cure, please visit http://www.BeTheMatch.org or call 1 (800) MARROW-2.