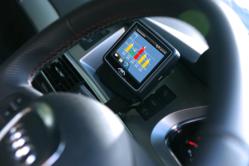 For the fleet – if the driver can make even a small improvement to performance of 10% for example, the payback for the organisation in reduced cost of operation can be significant.
Leeds, UK (PRWEB UK) 29 November 2012
Masternaut, the UK and Europe's No.1 provider of business-to-business telematics products and services, is launching a new innovation to its in-vehicle mobile communication centre. Available immediately, drivers will now have access to instant feedback on performance and driving style combined with real-time audible coaching.
This latest product enhancement now communicates with the driver to receive instant-updates on performance as well as end-of-journey reporting. This means that for the first-time, drivers can now directly receive their fuel consumption and emissions by the day, week or month with a rating that measures over-revving, harsh acceleration and breaking combined with idling and an option on speed. This allows the driver to have a constant overview of how his driving style contributes to the amount of fuel consumed.
Martin Hiscox, Chairman and CEO said: "The benefits of telematics are broadly understood, now comes the opportunity to offer drivers more advanced tools for performance management, as well as training and education to reduce the business's total cost of operation. The latest innovation means that we are contributing to this whole process by combining telematics with direct driver communication all through one convenient device."
Masternaut was the first telematics company worldwide to launch a new type of vehicle tracking system based around a single intelligent mobile communication unit. The system comprises a Mobile Communication Centre (MCC) combining vehicle tracking, GPS satellite navigation, real-time job scheduling and messaging in a single unit.
"For the fleet – if the driver can make even a small improvement to performance of 10% for example, the payback for the organisation in reduced cost of operation can be significant. We have seen in some early deployments that a 20% reduction in fuel can be achieved when combined with Masternaut's driver education programmes."
Two sizes of touchscreen display are available – standard 3.5 inch and a 6.5 inch version suitable for HGV applications. Masternaut's core technology continues to track the vehicle even if the touchscreen is damaged or stolen. The low-cost touchscreens are replaced easily in the event of accidental damage or loss and come integrated with a handy button pad that also allows drivers to switch between personal use and business use for mileage recording.
About Masternaut
Masternaut is the leading Pan-European software provider of on demand telematics solutions, with the broadest range of products and services positioned to meet growing customer demand for robust, easy-to-deploy solutions that provide deep business intelligence, help customers to minimise costs and maximise profitability.
Masternaut employs over 500 telematics professionals, supply services to more than 10,000 customers and have over a quarter-of-a-million assets, vehicles and people connected to our SaaS solutions. Over 12,000 users interact every hour with our systems, over 45 million data transactions a day are processed and configured into 16,500 reports distributed daily.
Founded in 1996, Masternaut began as a vehicle-tracking solution provider. Through technological innovation and partnerships with best-in-breed providers, Masternaut grew its product features portfolio to include sustainability business intelligence solutions that lower emissions and reduce fuel costs.
Masternaut is headquartered in Leeds, UK, with customers using our technology in 32 countries. Masternaut has European regional offices in France, Germany, Spain and Sweden.
For all press enquiries:
Firefly Communications
Tel: +44 (0)20 7025 8200
masternautteam(at)fireflycomms(dot)com