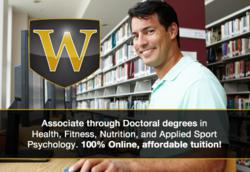 The master of science degree in nutrition and exercise gives graduates a wide range of career options from coaches, to consultants, to authors and speakers.
Rancho Santa Margarita, CA (PRWEB) March 15, 2013
If you've ever dreamed of being a weight management consultant, nutrition adviser, healthy living coach, author, lifestyle consultant, health club operator or coaching others to reach their goals, then Wexford University's online master's degree in nutrition and exercise, with spring classes beginning April 1, will prepare you for just that. Wexford University offers a variety of degree programs for both U.S. and international students in the fields of health, nutrition, fitness and sports. Students can learn more and apply now at http://wexford.edu/apply/.
"As we continue to learn more about the role of nutrition in our overall health, more and more students and professionals are realizing what an important field this is. Wexford University is proud to offer an advanced degree to prepare our students for a rewarding career in the critical fields of health, nutrition and fitness," said Jack Bauerle, Chancellor of Wexford University. "At Wexford, we focus on applied learning, critical thinking and the latest industry research, which students can enjoy at their own pace from the comfort of their home."
Wexford University's online master's in nutrition and exercise degree was designed to provide students with the academic and research skills needed for a successful career or further study in health and fitness disciplines, and to prepare students for careers in clinical environments with an emphasis on evidence-based practices, such as exercise prescription and clinical applications.
Online spring classes beginning April 1 in the nutrition and exercise program include Physiology of Exercise, Metabolism and Skeletal Muscle, Advanced Nutrition through the Lifespan, Sport-focused Nutrition, Motor Control, the Science of Metabolic Conditioning, the Pharmacology of Vitamins, Fluids and Electrolytes and many more.
About Wexford University
Wexford University is dedicated to providing world-class education through cutting-edge technology, offering direct application degree programs in an accelerated format with 100 percent online learning to save time and money. Programs include an associate of arts degree in Fitness Training, bachelor's degree in Health and Fitness, master's degree in Nutrition and Exercise as well as master's degree and doctorate degree in Applied Sport Psychology. Wexford University is the higher education division of NESTA (National Exercise & Sports Trainers Association). For more information, please visit http://wexford.edu/.