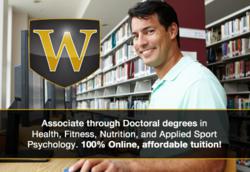 Sport psychology is something that is used by sports coaches, fitness trainers and life coaches to improve client and athlete performance.
Rancho Santa Margarita, CA (PRWEB) March 14, 2013
Spring is the season of baseball spring training, warmer temperatures and, perhaps best yet, the start of the next session of classes in Wexford University's online master's degree program in Applied Sport Psychology. A complement to the doctoral program in the same topic, the master's program classes begin April 1 and students can learn more or register now at http://wexford.edu/apply/.
The master's program in Applied Sport Psychology prepares students to work with athletes and fitness enthusiasts on mental training, and offers opportunities to work with elite and professional athletes, assist youth and adolescents in performance enhancement design and training, and transfer the skills acquired to the corporate world by engaging in executive coaching.
"As more and more athletes and coaches recognize the value of mental training in performance, the field of Sport Psychology is bigger and better than ever, offering a variety of opportunities for trained psychologists," said Jack Bauerle, Chancellor of Wexford University. "Our online master's degree program, with spring classes launching in just a few weeks, offers affordable tuition, self-paced learning, education from the best in the field today and the chance to truly apply the information you learn."
The master's degree in Applied Sport Psychology is designed to challenge graduate students to use critical thinking skills to enhance the performance and lives of their surrounding community, to gain competency by creating opportunities to assist others while becoming an applied practitioner in the field, and facilitate self-awareness, growth and understanding by continuing to develop the necessary skills needed to be successful in an applied setting. It can be a stand-alone degree or prepare students for further advanced education in Wexford University's online doctoral degree in Applied Sport Psychology.
About Wexford University
Wexford University is dedicated to providing world-class education through cutting-edge technology, offering direct application degree programs in an accelerated format with 100 percent online learning to save time and money. Programs include an associate of arts degree in Fitness Training, bachelor's degree in Health and Fitness, master's degree in Nutrition and Exercise as well as master's degree and doctorate degree in Applied Sport Psychology. Wexford University is the higher education division of NESTA (National Exercise & Sports Trainers Association). For more information, please visit http://wexford.edu/.