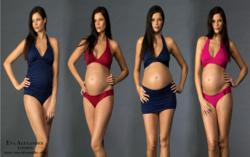 London, United Kingdom (PRWEB) March 30, 2013
What we love about Eva Alexander, a luxury maternity wear designer out of London, is the continual evolution of the brand and the innovation that it brings to the genre of 'dressing' for maternity. This season, Eva Alexander brings us one of the more extensive stylishly sexy maternity swimwear ranges now available. Inspired by the beaches of Rio de Janeiro, this new swimwear collection features a variety of interchangeable pieces in combinations of bright and neutral colors that can be mixed and matched to create the perfect look. Each piece is striking in its simplicity.
When it comes to going to the beach, every woman wants choices. The reversible maternity bikini has been extraordinarily well received for this reason. Created in fashion savvy color combinations that let a woman mix and match to suit her mood in some of the hottest shades under the sun, these bikinis are ideal for any woman looking for multiple swimwear options and doesn't want to spend a fortune.
The swimwear collection doesn't just stop with the reversible bikinis. There is something for everyone. If the bikini is too revealing, or a woman has decided she is just too far along and wants a little more cover, there is the maternity tankini and the ruched maternity swim skirt made in every colour in the collection. The maternity swim skirts are ideal for throwing on after a swim or a walk along the beach and just to make the new swimwear collection that much better, Eva Alexander also created a series of gorgeous chiffon tunics to pair with each maternity swimsuit.
True to form, the maternity swimwear collection is made to a very high standard. Every style is made from their luxury Italian swimwear material to ensure a high-quality finish that is resistant to staining from sun lotions and oils. So that women can wear Eva Alexander's swimwear with confidence, this special fabric is also treated for colourfast stability upon exposure to UV rays, chlorine and saltwater.
Feel beautiful and swim with confidence ladies.
Eva Alexander launched its online maternity wear boutique at http://www.eva-alexander.com in January of 2011, and has quickly become one of the trendsetters in maternity wear fashion. The creation of stylish maternity clothes that combine figure flattering silhouettes, modern lines and smart tailoring with luxury fabrics, distinctive detail and quality workmanship has been received with rave reviews. With a clientele that ranges from professionals and executives to celebrities and style savvy fashionistas, Eva Alexander has been embraced internationally and continues to grow from strength to strength. With three iconic collections: Essentials, The Office and Twilight Beauty, a woman is always fashionably dressed during her pregnancy.