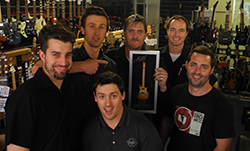 To out-sell every other music store in the country is quite an achievement, and to do it twice now only fuels our desire to continue the trend
(PRWEB) November 14, 2012
Australia's most popular home-grown guitar company, Maton Guitars, has just named Haworth Shellharbour Music Centre as its top retailer -- for the second year in a row. Haworth management attributes the achievement to the commitment of its staff to this quality range of instruments.
"We are so pleased to receive this acknowledgement from Maton Guitars" said Haworth's Manager, Glenn Haworth. "To out-sell every other music store in the country is quite an achievement, and to do it twice now only fuels our desire to continue the trend."
In the last 12 years the Haworth business has grown from being a one-man operation, established by Glenn's father, Phil Haworth to become a thriving physical and online retailer of musical instruments. The business now has a staff of 14, with each member having a love of music, and the instruments that create it.
"With music such an integral part of our lives, it is impossible for us to deliver less than personal and knowledgeable service" explained Mr Haworth. "It might be cliche these days, but we genuinely aim to exceed our customers' expectations."
Leveraging Internet Sales
Through the Haworth website (haworthguitars.com.au), which receives over 20,000 visits per month, online transactions now amount to almost one-third of Haworth's sales.
"While many retailers, notably the Billy Hyde stores, have folded under the pressure of competition from online sales, we have chosen to embrace the opportunities that the internet provides - and our customers tell us that they appreciate it" said Mr Haworth.
"We provide as much information as we can about the musical instruments we stock, but, importantly, it is our professional after-sales service, including our acclaimed repair facility, that sets us apart from others who sell musical instruments online."
The Haworth Shellharbour Music Centre website can be found at haworthguitars.com.au.
About Maton Guitars
Established in 1946 Maton Guitars has grown into a truly great Australian success story, that currently employs 60 people and remains 100 per cent family owned and operated.
Maton specialises in creating superbly crafted guitars from Australian timbers such as Blackwood, Bunya, Queensland Maple, Queensland Walnut and now Satin Box. Bill May pioneered the use of many Australian wood species in guitar construction, and is regarded by many Australian luthiers as the founding father of their industry.
Together with guitar legend Tommy Emmanuel, Maton developed the APMic system, which utilises both the piezo based system and a microphone which is located in the body of the guitar to pick up on the natural acoustic qualities of the instrument.
See Haworth's range of Maton Guitars
About Haworth Shellharbour Music Centre
Luthier Phil Haworth established Haworth Guitars in 1999, with a focus on building and repairing stringed instruments. In 2000 the transition from workshop to retail space was made, and in 2008 the two-level Haworth's Shellharbour Music Centre, with adjacent Warehouse, was opened in Albion Park Rail, just south of Sydney, Australia.
Phil has returned to his love of guitar-building and the business is run by his son, Glenn, who in 2011 became General Manager. The Haworth team is comprised of young people who are passionate about music and musical instruments.
Haworth's ability to remain very competitive in an online world rests with its warehousing capabilities and strong online presence.