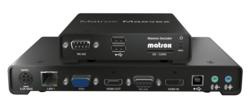 Montreal (PRWEB) April 03, 2013
Matrox Graphics today announced the Maevex 5100 Series video over IP solution will be shipping mid-April and priced for unprecedented price-performance value. Samples are currently available upon request to qualified AV/IT resellers and system integrators. Maevex enables the extension of Full HD quality video over standard IP networks for digital signage, collaborative video walls, manufacturing and automation, process control, and many other applications. Maevex Encoders and Decoders capture, stream, and decode video from a variety of sources, and even allow for software-based decoding on non-Maevex devices. Maevex units come bundled with PowerStream software, allowing for easy remote management of Maevex devices and enabling a wide variety of user-defined stream-management features. These include adjustable low bit-rate encoding for minimal and cost-effective bandwidth consumption.
Maevex 5100 Series will be available later this April at the following prices:
Maevex Encoder – MVX-E5150F
MSRP USD $999
Maevex Decoder – MVX-D5150F
MSRP USD $549
Maevex Encoder/Decoder Bundle – MVX-ED5150F
MSRP USD $1299
"Maevex and PowerStream provide AV and IT professionals with a user-friendly means to extend video and audio, striking a perfect balance between excellent video and audio quality and affordability," said Ron Berty, business development manager, Matrox Graphics Inc. "We expect the availability of Maevex to provide integrators and AV/IT resellers with a cost-effective video over IP solution that was previously out of reach."
Maevex will be demonstrated live at 2013 NAB Show at Matrox booth #SL4616, April 8 – 11 at the Las Vegas Convention Center and at InfoComm 2013 at Matrox booth #4759, June 12 – 14 at the Orange County Convention Center in Orlando, Florida. Customers are invited to contact Matrox Graphics or its distributors immediately in regard to inventory, sample requests and potential projects.
About Matrox Graphics Inc.
Matrox Graphics is a leading manufacturer of graphics solutions for professional markets. In-house design expertise, top-to-bottom manufacturing, and dedicated customer support make our solutions the premier choice in industries that require stable, high-reliability products. Founded in 1976, Matrox is a privately held company headquartered in Montreal, Canada, with representation and offices in the Americas, Europe, and Asia. For more information, visit http://www.matrox.com/graphics.
Media contact:
Janet Matey
Media Relations Manager
Tel: +1 (514) 822-6037
Email: pr(at)matrox(dot)com
Matrox and Matrox product names are registered trademarks and/or trademarks of Matrox Electronic Systems, Ltd. and/or Matrox Graphics Inc. in Canada and/or other countries. All other company and product names are registered trademarks and/or trademarks of their respective owners.