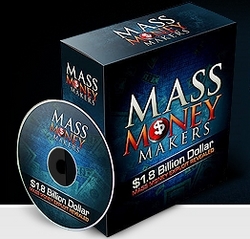 the product is already attracting a record number of affiliates
Duluth, GA (PRWEB) December 27, 2010
Internet marketing affiliates who want to be a part of history are encouraged to hurry. In just one day, Mass Money Makers will launch on ClickBank, and the product is already attracting a record number of affiliates. On December 28, 2010, Matt Bacak and Alen Sultanic will debut their joint venture on the digital marketplace, with a staggering 1103 affiliates backing it as of press time. As a member of this dynamic Internet marketing duo, Bacak is aiming to shatter his own front-end sales record, one which was set over 2 years ago.
A proven method for setting any online business on cash-generating auto-pilot, Mass Money Makers is poised for a record-breaking debut. And that record is approaching such overwhelming figures that it may stand for decades to come. Closing in on 1,200 promoting affiliates on board, the product is attracting JVs and affiliates like bees to honey, with everyone involved positioned to profit from this tour de force's spillover in the New Year.
"People actually called us insane when they heard we were launching Mass Money Makers in the midst of the holidays," explains Bacak. Now maybe Matt did figure something out, as herds of affiliates are rushing to promote this new Internet marketing product. By joining forces, Mass Money Makers' JV partners and affiliates are not only setting out to create history together. They're also positioning themselves for a profitable 2011.
In addition to enjoying a super-high EPC and a average $314 per sale on the product, those affiliates and JV partners fortunate enough to get in prior to Mass Money Makers' ClickBank launch will be in the running for some impressive career-enhancing titles. The number one promoter of the product will be crowned the ClickBank King and will be passed the torch to Bacak's Internet Marketer of the Year Award, earning the title of Internet Marketer of the Year 2011.
Aside from their own track records, what's garnering Bacak and Sultanic such a devoted affiliate following? The pair's long and impressive track record with launches that earn their JV partners and affiliates scads of money is certainly a draw. Others, however, are simply in it in support of Bacak, who will celebrate his 33rd birthday three days after Mass Money Makers debuts. From prior experience, they know that Bacak has their back and will be there to support them in their next hot converting launch.
It's loyalty like this that is garnering Bacak more support on this offer than any he's ever witnessed as an Internet marketer. The 1103 affiliates who are currently on board blew away the 305 Bacak attracted when his first book soared to the top of Amazon and Barnes and Noble's bestseller lists in 2005. And that number only stands to skyrocket as the launch date approaches. Indeed, 100 new people signed on over a mere 12-hour timeframe last week, with many of them in turn promoting the opportunity to their personal affiliates. This ripple effect could very well push the number of backers way over their original goal by December 28.
Internet marketing affiliates and JV partners who would like to learn more about how they can be part of Mass Money Makers' history-making launch can contact Tamara Smith at (770) 623-3008. For more information on how to get in on this record-breaking ClickBank product debut before for it's too late, visit http://www.massmoneyjv.com.
###