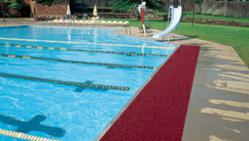 Pools and Swimming Pool Matting go together.
Gary, IN (PRWEB) June 14, 2013
With summer quickly approaching, A Plus Warehouse realizes that this is a time for sun, tanning, and pools. This gave the company the idea of introducing swimming pool matting. Every tanner needs a pool and every pool needs swimming pool matting. As Ed Stairman says, president of A Plus Warehouse, "Pools and Swimming Pool Matting go together."
Lets imagine a scenario where Swimming Pool Matting is needed. A little child comes running to a local pool, really excited for the summer. In this instance the child loses his or her balance, trips and gets injured falling into the pool. This situation could have been prevented with A Plus Warehouse Swimming Pool Matting. Swimming Pool Matting prevents slipping as well and also had many other positive features. This is why Swimming Pool Matting is necessary in any environment involving a pool.
What are other benefits of Swimming Pool Matting a customer may ask. Well, the answer to this question is rather simple. The matting is Spaghetti type with vinyl looped construction, and it also features ½ inch thick with open back for dirt to pass through. This removes debris so they don't end up in the pool and adds safety as well. It also features compressed borders on all of the four sides.
With pool season now here, it is no wonder a customer might need Swimming Pool Matting. Other year-round A Plus Warehouse Matting is useful too, such as Anti-Fatigue Matting. Anti-Fatigue Matting is vital to any company where a worker stands on his or her feet for long periods of time.
Anti-Fatigue Matting is a necessity. It is a very smart investment that will save customers money in the long run. When employees stand for long periods of time, they tend to get sore feet, legs, back, and other body parts start to ache as well. This distracts the employee, therefore making them much less productive. The employee becomes too focused on his or her aches rather than the task at hand.
A Plus Warehouse provides Anti-Fatigue Matting by Notrax, Wearwell, Superior, Akro, and Crown. All of these are trusted names in the industry. When ordering any item from A Plus Warehouse, customers should be confident that it is of high quality. As shown, A Plus Warehouses Pool Matting is a necessity, as well as Anti-Fatigue Matting. A Plus Warehouse wishes all of their customers and future customers a great summer and encourages the purchase of Pool Matting and Anti Fatigue Matting.