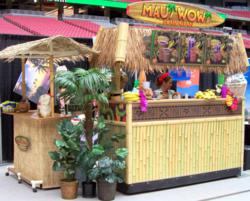 We do a good portion of our sales for the whole year in just those three weeks.
Greenwood Village, Colo. (PRWEB) March 23, 2013
Maui Wowi Hawaiian took the Houston Livestock Show and Rodeo by the horns, making it the most successful year at the event for franchise owners, Rob and Jean McLean. Held at Reliant Stadium, February 25 – March 17; it was 21 days, 2.5 million people, eight mobile carts and an unbelievably organized set up that made it all work like a well-oiled machine. Blenders mixed up thousands of the popular smoothies, which also included ones with alcohol.
"We were up just under 20% for the year over last year and I think there was a record attendance again both inside and out, which was obviously good for sales," said Rob McLean. "We do a good portion of our sales for the whole year in just those three weeks."
Maui Wowi representatives from the corporate "Mainland" offices, traveled to Texas to offer support and see the machine in action. Executive Vice President Erin Hicks and Vice President Mike Weinberger made a visit to every cart at the venue as they too enjoyed some Maui Wowi smoothies.
"I would love to say we pitched in and helped them out, but the truth is, it was seamlessly organized," said Hicks. "Their staff knew exactly what to do and everything ran perfectly, so we did our best to stay out of the way and enjoy the show."
Rob and Jean plan this event down to the last detail, even keeping track of every cup and carton on both clipboards and iPads. Now in their fifth year as a vendor at the Rodeo, the two of them have become masters of the operation but say there is always room for improvement.
"Lots of franchisees hear about this event, so it was nice to show some of them what it's all about," said Rob. "Anyone is more than welcome any time to come and check it out and see that it's possible and teach us how to do it better."
Rob said they had lots of support from their staff of employees, the Mainland, and the Maui Wowi 'ohana, or family. Franchisees in the Texas area came to visit and help out a couple of times throughout the 21 day event.
Maui Wowi is a 100% franchised company, with operators working events, venues, and locations throughout the United States and abroad. Texas has become a popular place for the brand. In addition to the Houston Rodeo, another franchisee recently worked the San Antonio Stock Show. There are also numerous others throughout the state who have both fixed and mobile units. For more information, please visit http://www.mauiwowifranchise.com.
About Maui Wowi Hawaiian Coffees & Smoothies:
Since 1982, Maui Wowi Hawaiian has embraced the Hawaiian culture and has been serving paradise in a cup since the day it began, 30 years ago. From event carts, mall kiosks and stand-alone retail locations Maui Wowi Hawaiian offers premium, all-natural, gluten-free, fresh-fruit smoothies, as well as gourmet Hawaiian coffees and espresso beverages. With over 600 operating units in eight countries, Maui Wowi Hawaiian has truly gone "Global" by adding an online store, shop.mauiwowi.com. Now customers from anywhere in the world can experience the prized-gourmet Hawaiian coffees and taste the 'Aloha Spirit' with a 'Click-of-a button!' To learn more information about Maui Wowi Hawaiian's, products, locations, or flexible, low cost franchising opportunities, visit http://www.mauiwowifranchise.com.
###