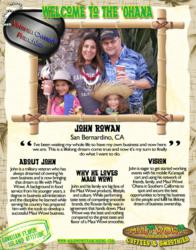 I've been waiting my whole life to have my own business and now here we are. This is a lifelong dream come true and now it's my turn to finally do what I want to do.
Greenwood Village, CO (PRWEB) March 02, 2013
Southern California is beaming with the Aloha spirit as Maui Wowi Hawaiian announces their most recent Franchisee, John Rowan. The retired military veteran brings with him a wealth of experiences and knowledge that will combine with the solid foundation of the Maui Wowi brand to offer the San Bernardino community quality products and the laidback Maui Wowi Culture.
"I've been waiting my whole life to have my own business and now here we are," said Rowan. "This is a lifelong dream come true and now it's my turn to finally do what I want to do."
Grasping to a dream since his childhood, Rowan has spent his adult years making big accomplishments; serving his country in the military, earning a degree in Business Administration, and raising a family with his wife and two beautiful girls. Life has taken him on a journey that, although it seemed tough at times, has given him years of experience that have finally led him down the path to fulfilling his lifelong dream with Maui Wowi.
The discipline he learned in the military, his education in business and experience with the U.S. Postal Service, have prepared Rowan with the tools that will help him develop a successful Maui Wowi business. "My military background has helped me out quite a bit and those skills have followed me throughout my life," he said. "All of my background is going to be immensely helpful with my Maui Wowi business; I'm very eager to get started."
Initially attracted to the high quality products that the coffee and smoothie company serves, Rowan and his two daughters did some research of their own to ensure the taste passed the test. Trying out competing smoothie brands, the entire Rowan family was in agreement that "hands down," Maui Wowi was the best.
Rowan is excited to bring his family into the business and share that sense of 'Ohana with their community. They plan to begin working events with the mobile event business model that has already become widely known in the Southern California area at youth sporting events, private catering, fundraising events, and much more. The brand has become a popular site in the community.
Rowan is already making strides, networking with friends, family and the SoCal Maui Wowi 'Ohana to secure the best opportunities to bring his business to the people and fulfill his lifelong dream of business ownership.
"I've been looking forward to opening and operating my own business for a long time, and with Maui Wowi my dream has become a reality," said Rowan.
About Maui Wowi Hawaiian Coffees & Smoothies:
Since 1982, Maui Wowi Hawaiian has embraced the Hawaiian culture and has been serving paradise in a cup since the day it began, 30 years ago. From event carts, mall kiosks and stand-alone retail locations Maui Wowi Hawaiian offers premium, all-natural, gluten-free, fresh-fruit smoothies, as well as gourmet Hawaiian coffees and espresso beverages. With over 600 operating units in eight countries, Maui Wowi Hawaiian has truly gone "Global" by adding an online store, shop.mauiwowi.com. Now customers from anywhere in the world can experience the prized-gourmet Hawaiian coffees and taste the 'Aloha Spirit' with a 'Click-of-a button!' To learn more information about Maui Wowi Hawaiian's, products, locations, or flexible, low cost franchising opportunities, visit http://www.mauiwowifranchise.com.
###