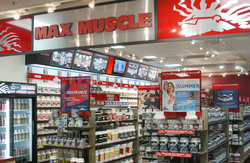 ...he kept saying again and again and again that Max Muscle had the same energy that Home Depot had in the very beginning. It was exciting and fun and we couldn't wait to get this first store open in Kennesaw.
Anaheim, CA (PRWEB) November 4, 2009
Franchise ownership is rapidly becoming the answer for past executives around the country as store ownership becomes more attractive.
"The closer you can park to the door where you work the happier you'll be." giggled Bobbi VanHorn, from the base of Kennesaw Mountain in suburban Atlanta. "We played that bureaucratic game and realized that the more levels of parking garage there are, the more you're not in charge of your life."
The VanHorn's journey to freedom started with a Pink Slip in January of last year. Guy was "presented with an opportunity to lose his job".
"He was a Director with Home Depot and there were several layoffs and it was his time to go." said VanHorn. "Five years prior, Guy really got interested in nutrition and fitness, eventually losing more than 50 pounds and in the process became keenly aware of nutrition and its benefits."
The VanHorn's researched a number of opportunities for a livelihood. In Atlanta they looked at the "Beltline Initiative", a 22-mile-long "live-work-play" corridor—including parks, trails, and green space—one of the most progressive urban-planning projects in the country. People by the thousands enjoy the Chattahoochee River—home to some of the best trout fishing in the South-- offering everything from boating - the Class II Devil's Racecourse - to cliff jumping - the Palisades area. It's also less than 90 minutes from the beginning of the Appalachian Trail, and half an hour from Conyers's famous singletrack where Mountain biking debuted as an Olympic sport in 1996.
On a trip to St. Louis to view a different franchise opportunity, Guy walked through the door of a Max Muscle Sports Nutrition store and was 'blown away' by the experience. He was greeted by a Certified Sports Nutrition Expert who, rather than sell him, he visited about his goals, needs, desires and actually turned him away from products he thought he needed.
He then contacted Max Muscle Sports Nutrition, scheduled a visit to meet with the company's owners, and applied for ownership in Cobb County…eventually buying the rights to three stores.
"Guy was with Home Depot from their beginning and he kept saying again and again and again that Max Muscle had the same energy that Home Depot had in the very beginning," said Bobbi. "It was exciting and fun and we couldn't wait to get this first store open in Kennesaw."
The slow road toward economic recovery could be made even slower by the fact that nearly half of long-term job seekers came from the ranks of the white-collar workforce. The inability of these higher-earning professionals and office workers to find jobs within 27 weeks will be an increasing drag on consumer spending and further hobble the economy, according to one employment expert. So many turn to store ownership.
"There are number of people who have adopted the fitness lifestyle over the last few years -- and there will be many more in the years to come. I want to help them in this journey. I want to help them get healthier, look great and feel good about themselves." said Guy. "With the 'top notch' products that Max Muscle provides, we can certainly assist with a component of their dream."
The VanHorns are at the leading edge of this growing trend of C-Level Executives realizing that their section of the workforce is one of the nations' hardest hit. An analysis of Bureau of Labor Statistics' data found that of the 5.5 million Americans out of work for 27 weeks or more in September, 46 percent previously held management, professional and related occupations or sales and office occupations.
"These people want control," said Patrick Sanders, President of Peak Franchising, Inc and Chairman of the Board of the Franchisee Association. "Data has no agenda. The number of unemployed workers who previously held management, professional and related occupations has nearly tripled since the recession began in December 2007, going from 1.09 million unemployed to 2.8 million as of September."
It didn't take long for Atlanta to take notice of the area's first Max Muscle Sports Nutrition location. Businesses from Chiropractic offices to MMA gyms, to groups ranging from schools, sports teams, online blog communities, and the general populace started wandering through the door and taking notice. According to the VanHorns, as soon as somebody walks through the door, they're hooked.
"This is an educated city, and the lifestyle is why people live here," said Bobbi. "As word spreads, and more and more people walk through our door, more and more people realize they simply cannot get the nutrition they need in their daily diet by 'trying' to eat right. Giving them that education for what they need – not what we can sell – and coupling that with the customer service that the Max Muscle brand is famous for makes us both excited to get our next two stores open as soon as possible."
The American Medical Association recently announced that all American's should be taking a daily vitamin supplement as we're simply not getting the nutrition we should from the diet we consume and the busy lifestyles we lead. Not coincidentally, Max Muscle Sports Nutrition recently announced Ultra 100: Advanced Liquid Nutrition distributing free samples nationwide.
"It's risk reversal for the consumer," said Sean Greene, President of Max Muscle Sports Nutrition. "We're not shy about promoting the best products on the market. Professional athletes like UFC Heavyweight contender Shane Carwin and six time National Mountain Biker Pua Sawicki, are switching to it because it works and you feel better."
To learn more about the Max Muscle Sports Nutrition franchise business, or to receive informational items about how to become a part of this business, visit http://www.MaxMuscleFranchise.com or call 1-888-629-6872 Ext. 2
###