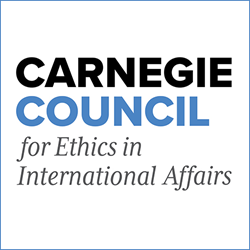 Carnegie Council is one of the world's top creators of nonpartisan educational resources on international ethics used by professionals, journalists, educators, students, and the greater public.
NEW YORK (PRWEB) April 23, 2019
Carnegie Council for Ethics in International Affairs announces its May 2019 current affairs programs in New York City.
To attend in person, please RSVP. Go to the online calendar: https://www.carnegiecouncil.org/calendar.
Press passes and student tickets are available. Please contact events(at)cceia(dot)org.
Events take place at:
Carnegie Council
170 East 64 Street, New York, NY 10065.
Watch them as live webcasts here: https://www.carnegiecouncil.org/live.
Videos, transcripts, and audios are available online soon after events take place
MAY 2019 EVENTS
Thurs May 02, 8:00-9:15 AM ET
The Presidents: Noted Historians on the Lives and Leadership of America's Best—and Worst—Chief Executives
Brian Lamb, C-Span
Mon May 20, 8:00-9:15 AM ET
A Thousand Small Sanities: The Moral Adventure of Liberalism
Adam Gopnik, The New Yorker
Wed May 22, 8:00- 9:15 AM ET
Rebuilding the Narrative: Recreating the Rationale for U.S. Leadership of the Democratic Community of Nations
Ash Jain, The Atlantic Council
Thurs May 23, 6:00 - 8:00 PM ET
China's Political Influence on Democracies
Sarah Cook, Freedom House; Isaac Stone Fish, Asia Society
ABOUT CARNEGIE COUNCIL
Founded by Andrew Carnegie in 1914, Carnegie Council for Ethics in International Affairs is an educational, nonprofit, nonpartisan organization that produces lectures, publications, and multimedia materials on the ethical challenges of living in a globalized world. Go to https://www.carnegiecouncil.org/.